Classic Black T-shirt with The Amp Hour logo, available on Teespring again until June 15th! http://teespring.com/theamphour-black.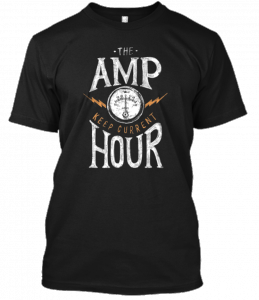 Off By One Error
Due to Chris being sick this week, we'll be releasing the show a day later than normal. The Amp Hour release may just line up with your weekend projects, start thinking about them now!
Due to some scheduling changes in our lives, we're going to be moving the release of The Amp Hour to Wednesday evening. Since we know some of you depend on episodes to get you through your commute or time at the gym, here's a smattering of popular past episodes to listen to/relisten to:
Or any of the many other episodes listed on our Archive page. See you all tomorrow!