Podcast: Play in new window | Download
Subscribe: Apple Podcasts | RSS
Welcome, Henry Ott!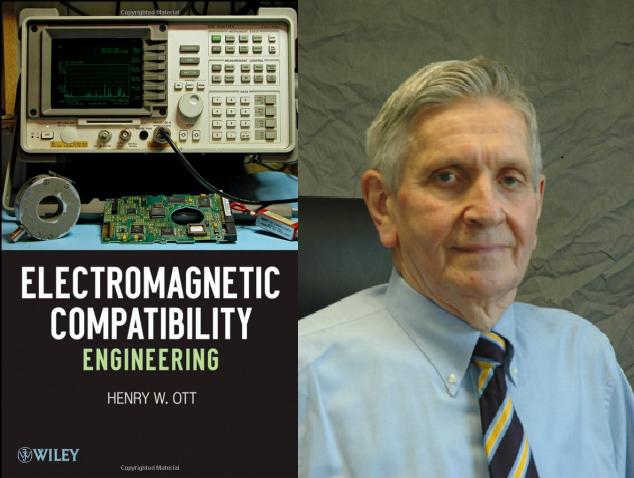 With a home base in NJ, Henry has been teaching classes about Electro Magnetic Compliance (EMC) for almost 30 years! It's a mix of private and public sessions, the most recent public one being in Dearborn, MI.
It's a 

3 day class. Henry is the only instructor and has an assistant who helps him set up and schedule classes.

The primary topics revolve around cabling/grounding/shielding/mixed signal/noise. Interested? Check out his books!

He start 

in analog design and got into EMC

 it by accident while working at 

Bell Labs in NJ.
During the early part of his career, solid state devices were just coming into vogue, meaning Henry experienced 

the birth of silicon and its spread in the industry.

The culture of Bell Labs was special in research and Henry also saw it while he was in development. He recommends "

The Idea Factory" to learn more about the history there.
As he dug deeper into EMC, he started a c

ontinuing education program after seeking out one about noise. He recognized the need for

 a course/class on noise/interference.

This also was when he started his work on the first edition of Noise Reduction Techniques in Electronic Systems (1977). The second (and current) edition came out in 1989.
He developed much of the content while at Bell Labs and later when he s

aw problems in consulting.

There are l

ots of EMC books on the market but Henry recommends his "3 book mini library"

Over on the subreddit, fews asked about r

esonant cavities.

Hardware wise, Henry suggests a good set of loop probes to help determine where there might be emissions. He also likes the Rigol 815 spectrum analyzer.
10 ways to maximize the emissions from your product. Two examples are i

nterrupting the return current and im

proper termination.

Dr Clayton Paul, who recently passed away, used to teach

 students by having them create a digital project and then showing how they couldn't sell the product because of EMC.

Lots of problems are coming from variable AC Motor drives. These are prevalent in electric vehicles.

Cars don't come under FCC but they are 40 dB less than gov't requirements.

Radiated vs conducted: 

Radiated is above 30 mhz, co

nducted is less than 30 Mhz.

Designing a shielded box isn't easy, it's about the 

apertures

. 

Cables still go in and out and are a source of errors. You n

eed to limit the size of the seams. Additionally, the mai

ns are a great antenna and need to be tested. 

Power line filtering can help reduce this problem but 

90% of the time it's not a power line filter problem, it's mechanical.

Henry is an IEEE Life member. The IEEE formed in 1963 when the 

AIEE (American Institute for EEs) and the 

IRE (Institute for radio engineers) combined.

Are we reaching the upper boundary of electronics? Henry thinks we are for FR4 (based on operating frequency) but is hopeful for o

ptical interconnects.
Thanks to Henry for being on The Amp Hour and sharing his vast knowledge and stories about EMC. We highly recommend you check out the Henry Ott Consultants page on the web to learn more about Henry and the field of EMC.