Podcast: Play in new window | Download
Subscribe: Apple Podcasts | RSS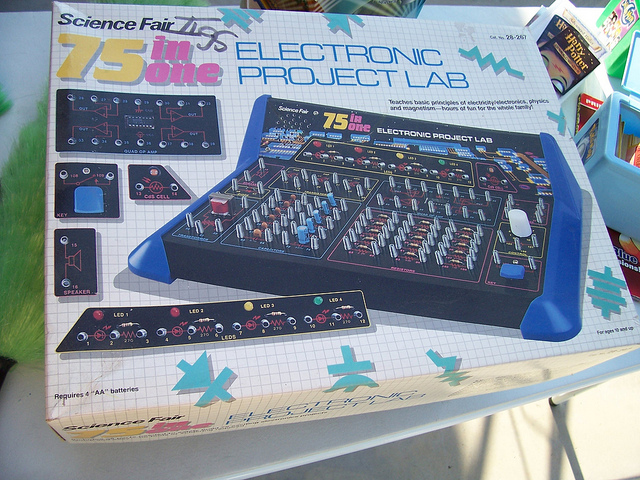 Many thanks to our sponsor, Club Jameco, for their continued support. Go to ClubJameco.com/TheAmpHour to see the morse code kit mentioned on the show and to support the show.
We were recently reviewing our stats and our hourlong(ish) program has been downloaded almost 500,000 times. What does that mean in totals?

36.1 million amp-hour-minutes
600,000 amp-hour-hours
25070 amp-hour-days
68.7 amp-hour-years
That's a lot of listening! Thanks to all of you! And if reading is of more interest than listening, we now have select transcripts available.

Chris has a new project that hopefully will be helpful to people looking to progress in their electronics learning journey. It's called Contextual Electronics.
[tube]http://www.youtube.com/watch?v=SEbu3h5FBZI[/tube]
Dave has been working on Fundamental Fridays videos that are the talk of the town! Lots of great information to digest!
Dave got a new Samson microphone that has some heft. He'll be using it while talking about whatever is under his microscope.
What is the cheapest you can deck out your lab with decent test equipment?
Dave got a great deal on a Keithley 2015, which he currently reviewed
[tube]http://www.youtube.com/watch?v=MiXMKgxx_Oc[/tube]
Heathkit might be coming back…again? They have (had?) a survey on their site but no indication they'll be coming back. There was an EDN article about it and one of the commenters made a great point that it used to be cheaper to build your own equipment. Not the case these days!
Former guests of The Amp Hour, Zach "Hoeken" Smith and Ian of Dangerous Prototypes both have a desktop pick and place. We got an email from the manufacturer Neodentech (update: there is now NeoDen USA for easier interactions for people in the States) that they are now exporting them, though the website looks hard to navigate.
Sometimes it's easier just to get a foot-controlled solderpaste dispenser that is a syringe.
Chris uploaded some videos since he returned from Dayton. One from Hamvention walking around and talking to friends and vendors. Also one video where he walks around marveling at the planes inside the US Air Force Museum
Former guest Greg Charvat (also featured in the hamvention video above) took the R390A radio he got at the swap meet and turned it from just a receiver to a transceiver using a homebuilt transmitter
[tube]http://www.youtube.com/watch?v=8kAfVfgEm74[/tube]
Boldport (previously mentioned for the "artistic PCB software") made a board in the spirit of Bob Pease, with the diagram drawn into the silkscreen.
Chris got a part wrong, it wasn't an amplifier, it was a voltage to frequency converter, the LM331 (designed by Pease)
Chris maintains this isn't needed as much these days because you can either pass signals over a digital isolator (0ut of an A/D converter) or you can put a micro on the other side of an isolation barrier (like a transformer). Obviously this isn't the only application, jeez Chris.
Altera has an app note about doing layout for 100 Gbps transmission of data(!). In reality, this is 4 parallel 28 Gbps transceivers, but still! Crazy!
There are TONS of signal integrity considerations when moving up to those data speeds. Listen to the show with expert Howard Johnson for more about this topic.
Dave has had to troubleshoot and tweak these parts before, trying to optimize the bit error rate.
Sometimes you can isolate problems by switching between a hot air pencil and cooler spray. In a pinch, you can turn over a can of compressed air and use whatever drips out.
6.4 EAGLE has integration with LTSpice, according to the release notes from January 2013. Has anyone tried this functionality?
Looking for a new podcast? Chris really likes Innovation Hub. They had a great show about robots recently.
If you like the show, please consider giving us a review on iTunes! This helps us show up in their index. Thanks!
Thank you to Steven Groves for the picture of the 75-in-1 kit!