Podcast: Play in new window | Download
Subscribe: Apple Podcasts | RSS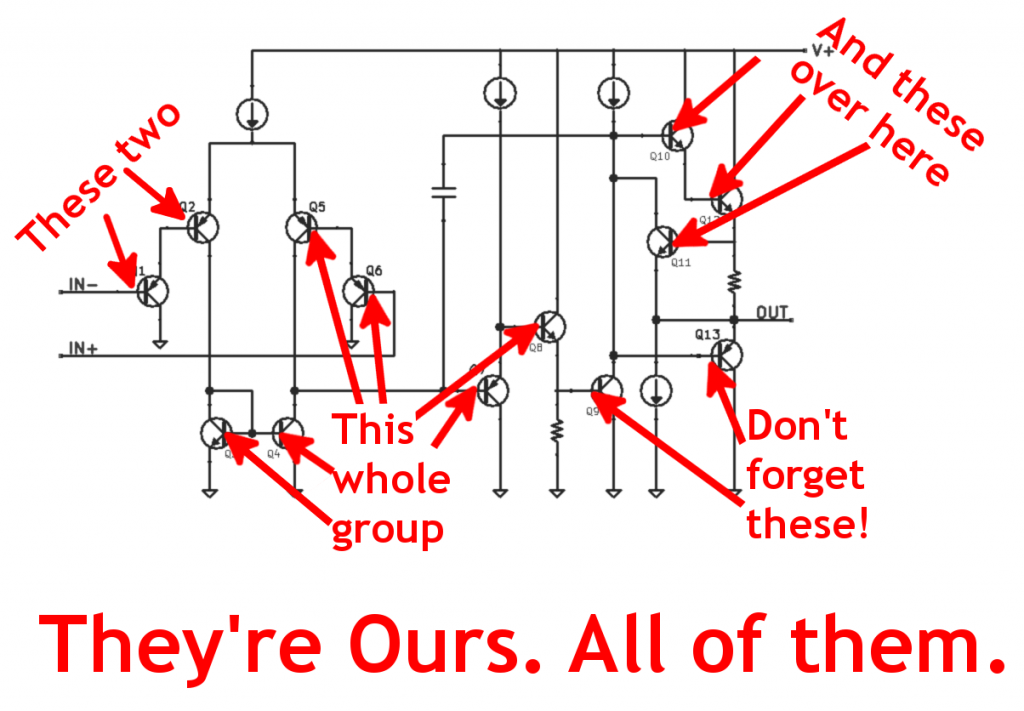 A new t-shirt idea? Dave didn't understand the reference to "

All your base are belong to us

"

Dave's op amp problem turned out to be from the rails (or so he says!). The "burden of experience" had him testing (and had Chris guessing) at all the wacky things it COULD be before checking what it actually was.

Learning how to read schematics comes with time.

Bob Pease schematics

were notorious for being hard to read.

Would there be interest in doing obfuscated circuit contests?

Chris just got back from

Hamvention, down in Dayton OH

. It was great!There was a meetup on Saturday evening, where some t-shirt wearing listeners came to hang out. They were awesome!





Thanks to Bill Boyer (far right) for the picture!
Former guests of the show Greg Charvat and Kent Lundberg were both at Hamvention! (Greg is the tall one in blue in the back in the picture above)

eBay significantly reduced the flea market from its former glory, but the selection was still pretty wide. And there were over 24K people in attendance!

Dave used to buy test equipment overseas and resell locally.
Chris feels terrible for forgetting his name, but the awesome person in red directly behind Chris in the picture gifted him a challenge coin, a really cool tradition in military circles.

Mystery solved! It was Michael Hill! He also was the one who left his Ray Bans. Two for one!

Dave says coins are a traditionally hidden and traded item between geocaching teams.
Perhaps Dave should include a collectible coins as a donation level in his yet-to-be-announced Pozzible campaign?
Thanks to our sponsor for this show, Club Jameco! Go to http://ClubJameco.com/TheAmpHour to see the J-bot kit discussed this week and to learn more about submitting your own kit idea for fun and profit!
Arduino had some announcements at Maker Faire this week: They will be releasing a branded robot kit and a wifi based Arduino called the Yún. It will have a co-processor running a version of 

Linux and a wifi stack.

Jeri Ellsworth and business partner Rick Johnson announce their new project spun out from Valve at Maker Faire.
Former guest, Jack Ganssle, has a great newsletter called The Embedded Muse. Someone wrote in about 

Partkeepr, a linux based inventory tracking system.

How do you manage your parts? Will anyone build a vending machine for parts for Chris? Kickstarter, anyone?
Bunnie did a great teardown of the Formlabs Form1. Can't wait to hear more about the low cost SLA printer.
The Intel Science Fair winners have been announced. The media over-extrapolated the chemistry project of the first runner-up, saying she created a device allowing a cell phone to charge in 20 seconds. She clarifies in an interview:
[tube]http://www.youtube.com/watch?v=5LahFsj6bLI&feature=youtu.be&t=1m24s[/tube]
The cost of school is still very prohibitive and really handcuffs many people with debt afterwards.
A new program has been announced between Georgia Tech (a top 5 engineering school), Udacity and AT&T. They will be offering a Master's Degree in CS for less than $7,000!
Rapid Fire News!
Lost and found: At the end of the meetup at Hamvention, Chris found a pair of Ray Bans. If you lost a pair, please send an email to chris@theamphour.com.