Podcast: Play in new window | Download
Subscribe: Apple Podcasts | RSS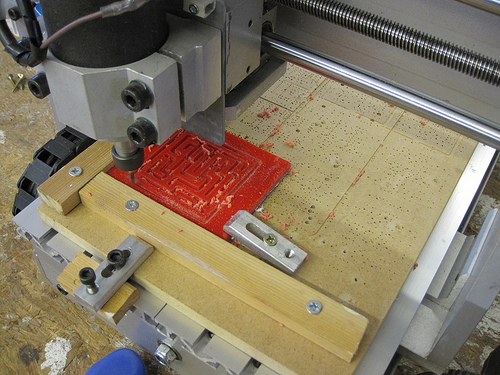 Welcome to our new sponsor, Club Jameco! Be sure to check out http://ClubJameco.com/TheAmpHour to see the kit we discussed on the show today!
Cleveland got a bit of a drubbing from Sandy, but not nearly as bad as NY
The storm puts electronics and electrical system reliability into sharp relief.
What kind of redundancies need to be built into systems? Especially systems that are always online?
In Brooklyn, they're dealing with outages by charging with a fire-fueled charging device.
Congrats to Chris Anderson who has decided to work on DIY Drones full time. We're excited to see what they develop next!
Chris (Gammell) just finished Chris (Anderson's) new book, Makers: The New Industrial Revolution.
From Dangerous Prototypes, someone has deadbugged a BGA part in his prototype! Impressive!
And from their 7400 series competition, the discrete FPGA project is a cool look at how LUTs work!
Does the internet prevent people from deeper knowledge about systems (out of necessity)?
Dr Greg Charvat, guest on episode 115, told us about a new video that helps visualize electromagnetics waves. Awesome!
[tube]http://www.youtube.com/watch?v=calCoF4cmkE[/tube]
Tony Long, guest on episode 107, is working on building a kit along with Greg to get more people interested in microwave.
Chris now has a Raspberry Pi, but hasn't fired it up yet.
The RPi foundation is one of the first that will be open sourcing the ARM/GPU stack.
ARM is now licensing and building 64-bit ARM-based server processors, including the A-53 and A-57 cores.
If you're in deep to the statistics of the election, check out the 512 Paths To The Whitehouse.
Chris is getting overzealous about CNC Machining, based on a great document found at the /r/hwstartups subreddit. This guerrilla guide to CNC Machining is awesome!
The machines Chris is looking at are nothing compared with the 5 axis machines that can rapidly cut crazy stuff:
[tube]https://www.youtube.com/watch?v=RnIvhlKT7SY[/tube]
Would you pick a CNC over a 3D printer?
Paul Graham wrote an article about the Hardware Renaissance.
Ben Einstein of Bolt wrote a rubuttal mentioning that the mentorship isn't as strong.
And if you're interested in hardware accelerators, HAXLR8R is looking for their next round of candidates!
The podcast that Chris mentioned is called Innovation Hub from WGBH. Great show!
Thank you to Jameco for sponsoring the show! And to Nottinghack for the CNC picture!