Podcast: Play in new window | Download
Subscribe: Apple Podcasts | RSS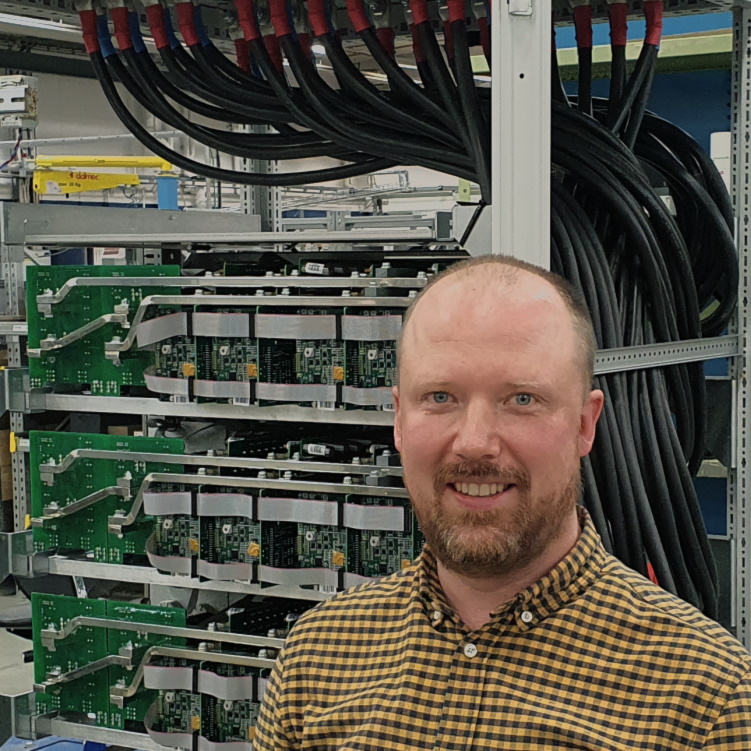 Welcome Fredrik Kensander of KraftPowercon!
Fredrik lives in Sweden, one of our first guests from there (Simone Giertz is also from Sweden originally, but now lives in the US)
KraftPowercon makes large scale Switch Mode Power Supplies (SMPS) that are in the range of 100-200 kW output.
There are a range of different industrial uses
The high current unit can go as high as 30 kA at 10V
This is used for copper plating in PCB manufacturing
The pulse mode helps to get the plating to happen down into high aspect ratio vias.
Reverse pulse plating use sub-microscecond pulses.
These supplies also found a use in ballast water treatment on ships. The 3 phase power on ships is higher, so they need to have more margin in designs.
Safety in the lab includes plastic covers for dangerous sections, as well as the case being IP44 with front panel on.  The lab gets hot because they're often burning so much power.
Manufacturing is on site, but the PCB assemblies are done elsewhere. It's the integration and testing.
Calibration is either done on test stands or in the units that are self calibrating.
What's the architecture of a device like this

EMC filter
24v digital board
3 phase goes to powermodule
700-800V DC
Half bridge with IGBTs
37 kHz switching
Snubber
5-10W
Reverse recovery on the diodes
Inductor
Current sensor
Hall effect
Isolation back to the control side of the board

The control loop needs to respond within 1 pulse, which is roughly 27 uS.
Pulse module is different, it has a lot of caps and an H bridge to deliver the pulses.
Supply chain for a device like this is the "secret sauce" of the company.
Founding of company was in 1935
They received a request to fix a 1937 battery charger.
Fredrik got in touch with Chris writing about "Zephyr without the RTOS part", trying to use similar methods that Zephyr does without taking on the entire RTOS.
He is the software manager at KraftPowercon and working on managing 40 different firmware versions.
He moved them from SVN to Git
Trying to make the implementations all modular
Replicating the Zephyr API but maybe not using the whole thing
Using different interrupts
Processor on each power control module
PRU on the AM3358 (Beaglebone Black)
Measuring with scope
Unit testing each module
Test the output that might be going to the IGBT gate
The stack is multiple modules
Many thanks to our Patrons! You can join at Patreon.com/TheAmpHour if you'd like to join the crowd. A special thanks to our corporate sponsor Binho, who now distribute the Sensepeek PCBite.