Podcast: Play in new window | Download
Subscribe: Apple Podcasts | RSS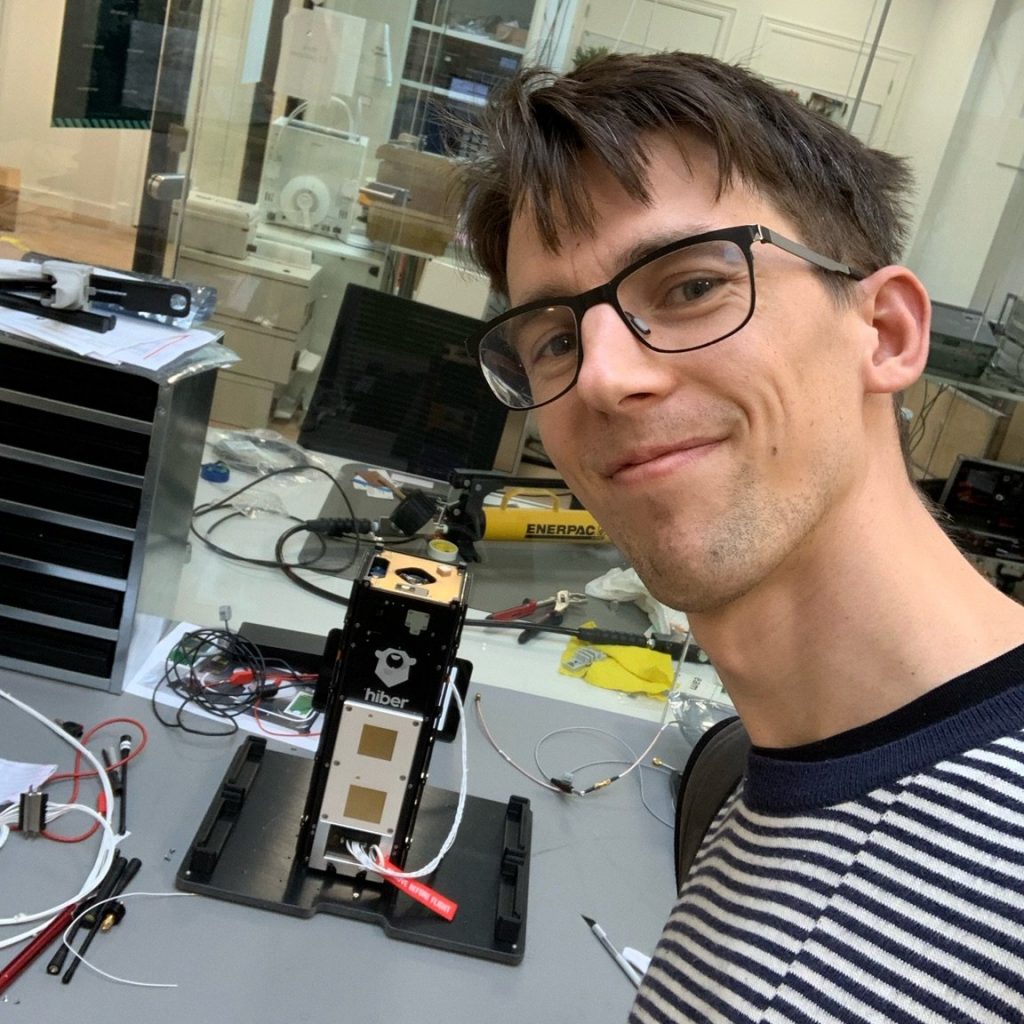 Welcome Joris Aerts of Hiber!
Joris introduced us to Maarten (CTO of Hiber), who we had on episode 427
Chris had asked Joris about Starlink, but it will require "the pizza box", which is a phased array modem that will track satellites to maintain connectivity as they pass overhead. That's different than how the Hiber setup works.
The Hiber team had a "theme song" as they were building the satellite: a polka
Chris worked on a project in college (a cardboard box maze) that played "James Brown is dead" over and over.
The Hiber satellite is a Cube Sat with 10x10x30 dimensions
Old days was all rad hard
Satellites these days are "new stuff but super redundant". The main thing is making sure the box can gracefully reboot.
Data has checksums to ensure integrity.
They do statistical models on failed messages coming in and how likely they are to occur.
Downlink not turned on right now
Solar panels degrade over time, becuase they collect high energy particles. Those impact the dopants in the semiconductor.
Lifetime expections of a satellite is about 4 years
Their current satellite will be going up in early 2021 with SpaceX
On The Contextual Electronics Podcast, Chris interviewed Joe Barnard about launching model rockets and some of the failures he has to recover from.
The satellites orbit at 400 km above the earth
Joris was surprised that working on satellites is effectively like any other type of engineering
It has different constraints, compared to high volume applications
Having golden backup is key in low volume applications
They have a standard board form factor based on PC104
Hiber is slowly moving away from that form factor, but there are benefits to using the standard.
The main element Hiber makes is an SDR + Zynq, and then there is a different board with a Linux controller for the whole system
Testing over CAN bus which Joris knew all about form his time working at Tesla
Cost factor is really important in a high volume application
Joris joined Tesla as an intern in 2011 and later joined full time
He worked on the electronics for the very fancy door handles on the model S.
LIN Bus is single master, with a 12V transceiver
Working on a cable harness at an organizational level
Versioning is challenging but everything can be updated
Vertical integration helped with firmware deployment
Joris is working on a new form factor for testing boards (Not yet named)
Many thanks to our Patrons! You can join at Patreon.com/TheAmpHour if you'd like to join the crowd. A special thanks to our corporate sponsor Binho, who now distribute the Sensepeek PCBite.