Podcast: Play in new window | Download
Subscribe: Apple Podcasts | RSS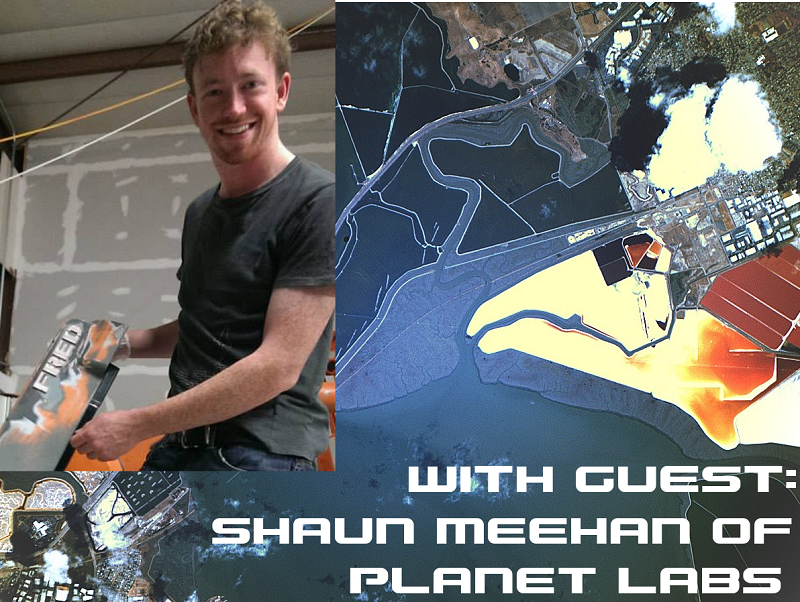 Welcome Shaun Meehan of Planet Labs!
Shaun has two large industrial robots named FRED and Lefty.
He used the Whistled from Limpkin to create the WhistleBot. Future planes are to calculate location based upon a snap or dog clicker.
[tube]https://www.youtube.com/watch?v=etKIbUnqIOA[/tube]
FRED was won in an online auction and transported from Connecticut to Coloardo. It was listed in the wrong category so it was cheaper than normal, ($700 vs $10K) but the freight calculations were not included (almost $2K).
Lefty was formerly owned by the FIRST Robotics team teacher at Shaun's HS. It was also locked up, which led Shaun to learn lockpicking. When the EPROM burned out, Lefty was given to Shaun.
The robots are still in Colorado but will hopefully be transported to CA soon. Shaun thinks somewhere in industrial space in Oakland. Chris was trying to remember the name of Bluesprout, a new incubator/co-working/living space.
Both robots are IRB2000 models from ABB. Shaun also has a 2 axis piece in SF currently.
The power was a large problem when getting started. It came in on 100A at 220V, single phase service. Shaun converted this into 220V 3 phase. Then this was stepped up with a 3 phase transformer bought from some hillbillies.
The voltages between 48V and 1KV is terrifying to Shaun because the equipment doesn't seem well suited to the task of handling stuff that can kill you. Above 1kV, all the equipment looks like the stuff Photonic Induction uses.
Shaun grew up in Fort Collins (north), near Colorado State University. His neighbors were professors there.
He built his own kitchen timer rocket launcher and also cooked up the rocket fuel in the kitchen.
Then he moved to Melbourne for 6 months.
In high school he worked at the lasers workshop at CSU. He was making optics mounts, vacuum chambers and more on the CNC mill.
This lab was developing and commercializing high power XUV lasers. These operate around 100 Hz and at a wavelength of 46.9 nm (or less).
Another neighbor traded Shaun yardwork for a superconductor. He went down to AirGas to get liquid nitrogen (apparently anyone can).
After the lab, Shaun applied to be general assistant at South Pole. A friend gave hints on how to get into the program such as working at Tractor Supply Company (TSC) on heavy equipment and doing a deep snow survival course.
He got into the program to be an assistant and flew down to the McMurdo Station on the coast. On the first trip out to the South Pole the plane had a "rough" trip.
Once on site, he was an iron worker, helping build new buildings. Construction only happens from November to February. Temperatures are -20F on a good day.
One benefit of the job was getting to pick the brains of scientists stationed there. Cool projects included the bicep team and neutrino (Ice Cube) team.
The neutrino team puts basketball sized photomultiplier tubes (the ones they use are called DOMs – Digital optical module) down into the ice. Then they observe Cherenkov Radiation and back calculate where it is coming from.
Seeing neutrinos gives an indication of where to look for supernovas. Chris though this might be how they know that Eta Carinae is going to go hypernova "soon".
While fixing the N64 at the comms shop, Shaun found out the comms tech couldn't stay on over winter. He applied and stayed as a the tech.
He also went back the following year after becoming disillusioned with school after one semester. Overall Shaun spend 24 months on the ice.
While at the South Pole there isn't much communication for internet. They can use the TDRS satellite for parts of the day.
When Shaun went back to school he got dropped into a dropped into lab with working on high power RF and laser work. The laser could pulse 50kV at 20kA, which it then steps up to 150kA pulse, discharges through capilary. A Z-pinch generates the laser.
These are controlled using shady Russian Thyratron, a Deuterium filled valve with a 5 nS commutation.
A friend passing through town told Shaun he had just left startup in SF. He applied and was hooked and then dropped his research program. He was the 3rd electrical engineer at Planet Labs, formerly Cosmogia.
Dove 1 and Dove 2 launched before Planet Labs came out of stealth.
The satellites are in a sun synchronous orbit.
The cameras on board currently capture 1 fps and have a 3-5m resolution. This allows you to count trees, not but not cars (alleviating privacy concerns).
Radio system is X band, has it's own downlink at ground stations.
12 iterations on the doves since company iteration
Shaun does image compression using FPGAs.
ITAR controlled, soon will be controlled by commerce instead of DOD
Largest constellation of earth observing satellites.
They have artist in residence who makes art that is laser etched those onto outside panels of the Doves.
Planet.com has some great images. The image used for this show was a shot of SF.
The benefit of regular captures is you can watch timelapse of data. This is useful for tracking agriculture, natural disasters and a lot more.
Satellites have 3 methods of attitude control

Rotate to get more drag using the solar panels (because there is atmosphere)
4 Reaction wheels, can slow or speed up the normally 4000 rpm to generate inertial.
3 Orthogonal coils can use magentics to align with the earth.

The Imaging / Verification is done with a Kalman filter (to calculate absolute position). The filter accepts inputs from:

Gyroscopes
Magnetometers
Photodiodes on the outside of the craft
A star camera
Picture of the earth (compared to what they think they should be seeing)

There are only 3 or 4 people in mission control. Much is done by optimizer code. All scheduling and ground stations are autonomous.
28 satellites from Flock One launched from ISS, the biggest simultaneous deployment of earth imaging satellites ever.
The engineers hooked into the Yo app, which triggers each time the satellite says makes first contact.
Planet Labs piggybacks on launch service providers, buying their spare space – US, Russian, Dnepr Rocket, ISS commercial resupply
They are doing Agile aerospace: Make lots of stuff quickly and see what does and doesn't work. This allows them to use the most advanced processors in space because they don't stress about RadHard parts (but measure to make sure things are still working).  This also means it's OK to lose a satellite or two — that means they are pushing the envelope.
The company was an offshoot of the PhoneSat program.
Shaun recently developed a MPPT for the onboard solar cells. They went concept to integration in 3 weeks (launch took a lot longer)
Monitoring is key:

There are 60 temp sensors inside the satellite
Every voltage rail has an ADC measuring it
Every device can have short circuit protection and monitoring

The Dove 4 spacecraft is still awaiting deployment in an Italian spacecraft.
The temperatures experienced are surprising: Internal parts experience 40-70 C. Solar (external) panels experience -100 to 100C.
To Chris's surprise, Planet Labs is a VHDL shop for writing code for their FPGAs.
They are currently hiring RF engineers (and more!).
Thanks to Shaun for sharing his crazy experiences and his work on satellites. Read more about Planet Labs or check out some of Shaun's blog posts about robots over at Logic Low.