Podcast: Play in new window | Download
Subscribe: Apple Podcasts | RSS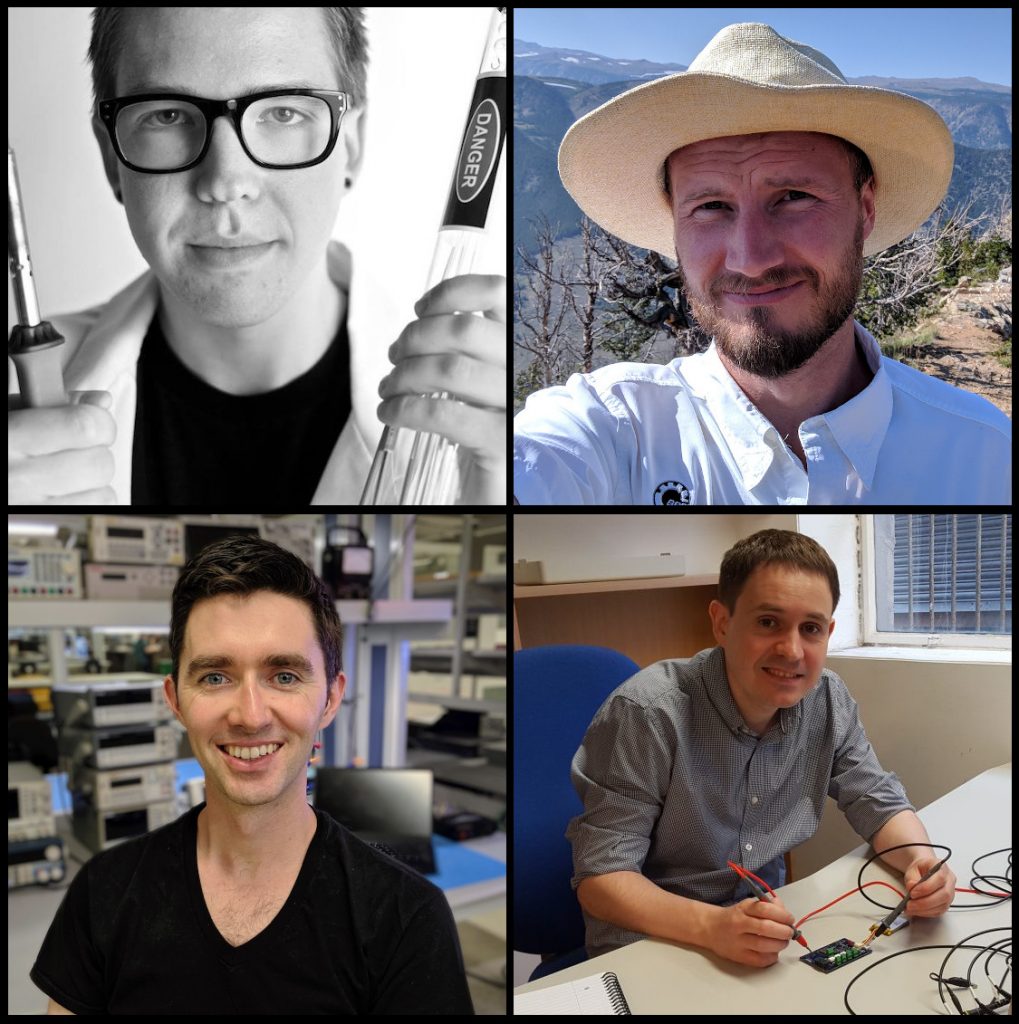 Another episode with people talking about consulting for electronics! Welcome to our guests, listed clockwise from the top left in the episode photo.
Notes from the show:
Episode 409 was also about Electronic Consulting. That episode inspired the consultant forum as a place to discuss issues related to the field.
Working with remote clients, before and during the lockdown.
All have considered making hardware for sale outside of client work.

Kieran does courses and has made some demo boards for SI issues
Jeremiah will be making some mod hardware for his Mazda RX7

Chris liked the idea of building a reference design after Ryan Cousins from KRTKL was on the show talking about how the Snickerdoodle is a lead generation tool.
Having a niche is also important.
The Long Tail (written by past guest Chris Anderson)
Past guest / co-host Greg Charvat has written niche books that lead to opportunities at startups as a CTO.
Schedules at home lab are tough, but not that different than before for the attendees. Kieran is used to working in the middle of the night (it was 1 am during the call for him)
Alex recorded a video of mountain biking using a Skydio drone
Keeping up on the latest trends via podcasts. We didn't mention it directly but this included the machine learning episode on embedded.fm.
Classes are always a good way to learn too, but might be more limited.
Looking at job postings also calls out what skills are in demand. Chris referenced the HN who's hiring posts.
Chris wishes there was an Audm for Engineers, that reads you technical articles and/or summaries. If you're interested email chris@theamphour.com with the subject line "Audm for engineers"
How are you rigorous?

Standard processes in place
Jeremiah is learning from the medical industry, since there are more regulations. This includes things like unit testing that links back to a requirement.

Tracking time for quality, including how well they are doing for estimates.
Book: How to measure anything
The important thing is to check whether it's done or not. "Are we happy? Yes or no"
A great tip: Every block in the schematic gets a number for PCB reviews
Using a balance sheet as a budget check. Adding custom categories to your Chart of Accounts (with your accountant's blessing) means you can categorize with more fine control.
Some of the accounting/tracking tools we use:
Spend your time billing hours
War stories

Once there was a layoff, one the employees was nice enough to update Kieran on the situation
Jeremiah war story about client

So you want to be a consultant. Also referenced in Jack Ganssle's series on being a consultant.
Things to learn in the next 5 years:
Follow our guests online!