Podcast: Play in new window | Download
Subscribe: Apple Podcasts | RSS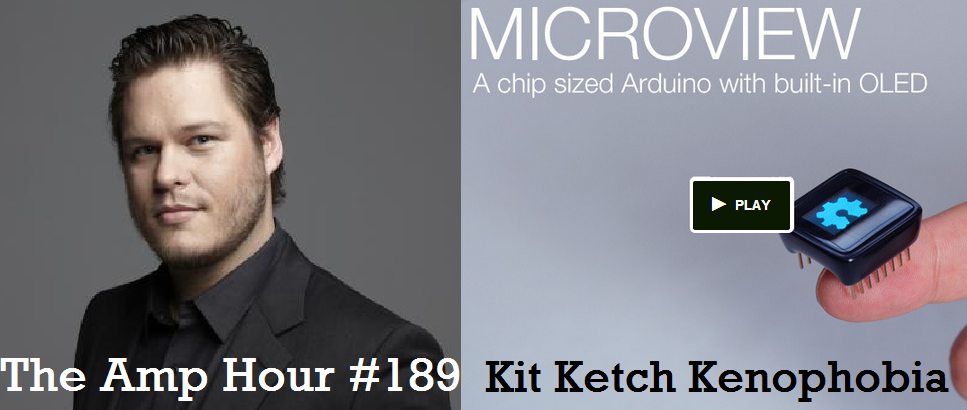 Welcome, Marcus Schappi!
Marcus and Maddy Schappi started Geek Ammo and are producing the MicroView as a Kickstarter (but only 5000 of them).
They also own and run Little Bird Electronics, the largest Australian distributor of Open Source Hardware.
Marcus does customer support and is tempted by "Let Me Google That For You" — http://lmgtfy.com
They run the business out of their house! Which is even crazier when you realize they carry more than 

10,000 

SKUs (Stock keeping units)

Prior to the latest Kickstarter venture, they started Ninja Blocks. It's based upon the BeagleBone (original) and raised more than $100K.
The idea behind NB was to act similar to IFTTT.com ("If this, then that"), but for hardware/real world interactions.
They were able to run this campaign on Kickstarter before it came to Australia by incorporating in Delaware as a US company.
They were assisted and supported by 

StartMate, a resource for Aussie companies.

At first, the idea of an Arduino with a built in display was an off-hand joke. However, they wanted it to be real (like Chris wanted with the Tacocopter).
Early protos were done with the $4K 

pick and place from Shenzhen.

The MicroView will also have an 

interactive course for iPad. There are 11 modules to get people started.

When submitting the project to 

Kickstarter, they didn't believe the picture was a prototype because it was so shiny. In fact it was a machined and polished CNC.

Cases are a difficult problem to solve; with the Ninja blocks, they 3D printed each and every case (more than 1000!). They did this inside the Little Bird house and Marcus's child may be as much as 10% ABS plastic because of it.

Marcus is no longer involved in the day-to-day operations of Ninja Blocks. They did a $1m investment round and recently launched the very shiny Ninja Sphere on Kickstarter.
The MicroView will be manufactured by Sparkfun. The engineering team was our guest a few months back and it's easy to see why such a talented team is growing into such a powerhouse company!
Sparkfun also produced the Makey Makey, a popular MIDI interface tool based on the Arduino.
Marcus was able to convince Nate by making an analogy to the AMG/Mercedes Benz relationship.
Arduino is now incorporated in Switzerland (the Delaware of Europe!)
The MicroView is participating in the "Arduino at Heart" program, a quasi-licensing/approval that alerts users that the guts of a device are hackable.
It's about creating products that "just work". Marcus likes the Electric Imp, which gives users w

ifi inside an SD card.

What did Marcus learn from the online game Clicking Bad? D

istributor networks really matter! And Sparkfun has a LARGE network.

Apparently 30% of Kickstarter backers are outside the US. At least for Marcus and Dave's campaign.

Sparkfun are outpacing their competitors. Marcus and Dave wonder if anyone 

would/could buy them?
Thanks so much to Marcus for "debuting" his Kickstarter project on The Amp Hour! As of the posting of the show, the campaign already crossed the $45K mark! Jeesh, so much for a "debut"!