Podcast: Play in new window | Download
Subscribe: Apple Podcasts | RSS
Welcome, Hank Zumbahlen!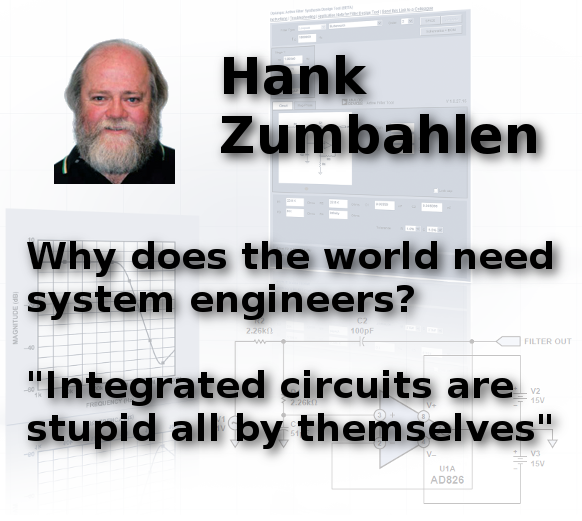 Hank graduated from University of Illinois in 1974

He then worked at National Semi 2 months before there was a huge layoff. Other companies followed with similar fates, due to the timing of the job market.

He has been at Analog Devices for 25 years now! Awesome!
He started in 

field applications but now works in 

central applications, developing writings and seminars.



The most famous of which is the Linear Circuit Design Handbook, one of the best (free!) resources available online for analog. Hank was the editor and there were other contributors as well. They called the book, "t

he seminar that never was".

Another great (free!) resource is the ADI's "Op Amp Application Handbook", Walt Jung, Editor.
Hank works out of the 

San Jose office and his home office, but also travels around to train people. He'll let us know when he's doing his next public seminar.

Yet another awesome resource (and something that got integrated into the Linear Circuit Design Handbook) is an app note called, "Staying well grounded"
Both that article and an article by Henry Ott about split ground planes (Henry was a former guest of the show) helped Chris get through many design problems.
Hank suggests to "

Think like an electron".

While working on a particularly difficult verification circuit, Hank had to build a 

3500W linear amplifier(!!).

Hank puts the "

Low vs High Frequency" division at about 10MHz-100MHz. Basically when you need to start worrying about EMI.

Integration continues to increase in analog components. Chris recalls the ADuCM350 discussed last week.
In order to keep advancing technology, we need more 

package changes. Really this means we need to be able to access I/O on silicon.

Hank maintains his a

udio hobby, including his work as a musician. He built an o

utboard DAC with a "

ludacris fringe" — a 

7 pole filter for the DAC output. Wowza!

The precursor to Hank's "Staying Well Grounded" was Paul Brokaw's AN202, "Making things go right for a change"
Many people don't understand the m

echanical to electrical conversion process, as in an accelerometer. Hank says they measure z

eptofarads.

When looking at ADCs, some look at SNR and some look at ENOB.
Hank doesn't work much with 

IBIS because he stays in the relatively low frequency realm.

The newere tech is "evolutionary vs revolutionary". But that means consumers will get more for less (and faster!). Chris likes the 

isolators like the ADUM2401.
PLLs are getting faster too…now running around 18 GHz!
Hank's next series of articles will be about p

hase response filters.

This will appaear in the Analog Dialogue, an awesome newsletter about all things analog (a little bit of marketing, but its bearable). There are also very valuable a

rchives.

If you'd like to reach Hank, you can email him at 

hank.zumbahlen@analog.com
Thanks so much to Hank for talking to us on the show this week. It's always great to get analog gurus with their war stories on the show! Also, thanks to Michael Ossmann (@michaelossmann) for joining us again!