Podcast: Play in new window | Download
Subscribe: Apple Podcasts | RSS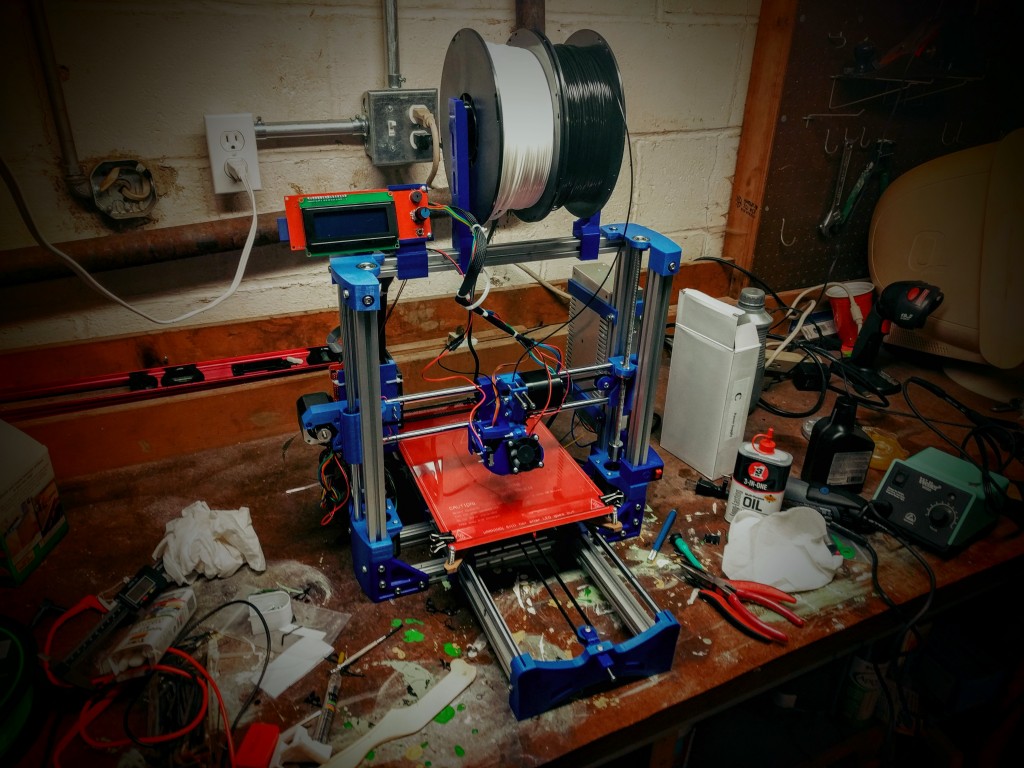 Dave will be on another podcast called Space Worlders.
While planning to fix his 

Aircon, Chris wonders why Dave doesn't buy a ladder on 

Amazon. 

Prime (or any simplified logistical setup) i

nfluences decisions about purchases. 

Dave has become a product marketer/definer. He has a new secret project coming out soon. 

Some companies are more secretive than others. 

Dave got a 3D model of his new product, which is important for showing off to people inside and outside your company.

Quality goes through cycles…China/Japan/Taiwan/Korea all started simple and have progressed to high quality goods.

Chris traded in his mill for a 3D printer. It is a 

Wilson II 3d printer, a reprap variant designed by his friend Marty.

David2 built a super high end 3D printer for his senior project and won contests with it. 

The unwritten part of 3D printing is needing to get better at 3D modeling software.
Dave uses the simple eMachineshop as it fits how he thinks about mechanical assemblies. 
CadJunkie (run by Adam who was also on Engineer v Designer) is a program for learning about how to model stuff in 3D.
Chris uses Sketchup, which can get you somewhat far. He is also investigating AutoDesk Fusion 360.
Dave asks Chris whether he is giving away all of his content. Not yet!
David Bowie (RIP) wrote about the future of the music industry in the NYTimes…in 2002. He was spot on.
One of the main ways to still make money is on tour. Adam and Jamie of Mythbusters tour around the world, including Australia (which Dave missed).

Chris had a list of life goals that he was reviewing at the beginning of the year. Dave has never had a list. 

What should Dave do?

Former guest Fran has started a kickstarter for her reboot of the peachfuzz pedal. A couple days left!
Zano went bust to the tune of 2.3M pounds. Kickstarter is doing an investigation. 
Chris quoted Hans Gruber from Die Hard with regard to flopped crowdfunding campaings. We learned today (the day after the recording) that Alan Rickman sadly passed away.
A new article indicates that Atmel's board prefers Microchip buy them. Dave loves saying "fiduciary responsibility". 
Brian Benchoff tried to prank Chris with "something ominous from his past". It turned out to be a t-shirt of his lame band.

Future product designers will be tempted by low cost platforms like the

Pi Zero ($5). Dave and Chris went over why it would be a bad idea to think this is a long term plan (ie. a product vs a prototype).
Looking for a fun way to ride for 20 minutes and/or get chopped up by blades while riding to work? Check out the Ehang 184!
Dave didn't know that LaVar Burton was the host of Reading Rainbow, which recently relaunched.