Podcast: Play in new window | Download
Subscribe: Apple Podcasts | RSS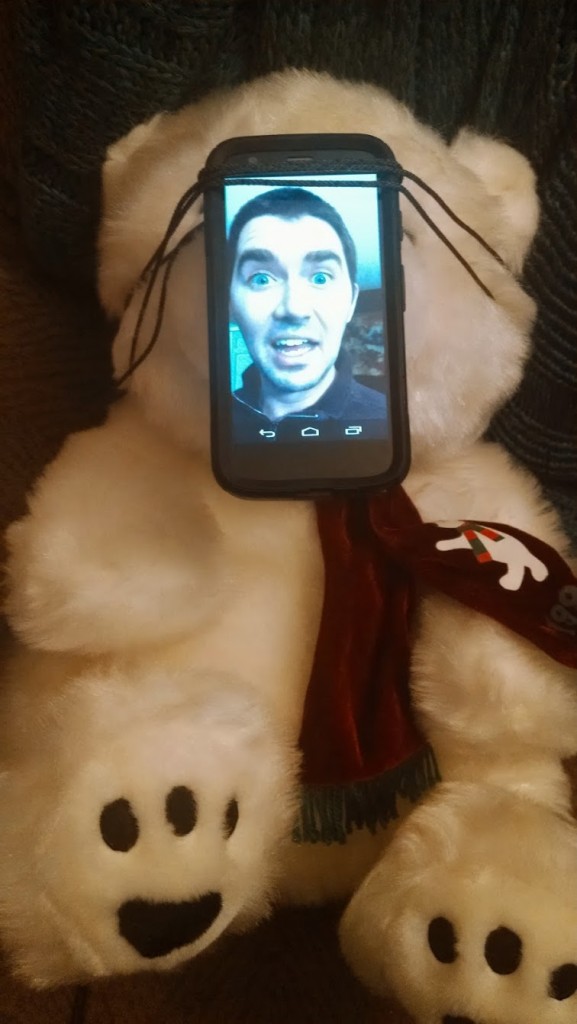 Glass is dead. Long live Glass? Chris predicts it will come back for industrial uses.
Before it's demise, the Glass team announced they would be dumping the OMAP and instead going with an Intel.
Dave thinks that this home robot kickstarter is a waste of resources; in the 80s everyone though you'd have a home robot.
Chris thinks Glass and home robots are technologies looking for a solution. Narrative is an example of a more subtle technology that has similar effect.
Dave wanted to have a lifelogging audio app/device. He also thinks that Smartwatches will become terminal devices, like a 70s mainframe.
Contextual Electronics just relaunched. The first project will be a "cart" for making a surplus smartphone into a telepresence robot.
This idea blossomed out of Chris and Dave talking about a "Kickstarter" campaign to have a "Telepresence bear".
Screw Kickstarter, we want to sign up our next project to the new crowdfunding campaign: WorkHarder
Speaking of people who do tons of things, Bunnie and Xobs did some amazing work with the Gongkai phone plans from China. They did work trying to find ways to open up the MediaTek MT6260.
Seeed Studio sells the LinkIt-ONE, which has a range of MediaTek chips on board, including GSM and Wifi.
Dave has developed a GSM module in the past for the Altium Nano board.
The SpaceX rocket landing wasn't a failure, it was a spectacular looking bit of progress.
Dave was amazed about the 2004 beagle 2 recently being found.
Satellites are powered by RTGs, these can provide 62W.
Chris likes thinking of satellites to exemplify how all "grounds" are just relative references.
Dave recommends the secret life of physicists by Lawrence Krauss
Mantras can help you learn and internalize electronics.
The Cirqoid is a new PCB milling machine that has other functions. We don't care about the other stuff as much.
There are lots of PCB tools in 2015 so far, the Voltera was the printer that won the Hardware Battlefield.
The KeySweeper is kind of terrifying: It is build into an AC charger and can sniff packets of a bluetooth keyboard and transmit them home over GSM.
Radioshack is just about dead. Reading about how they treat their employees, it doesn't seem that big of deal.
Forrest Mims (former guest of the show) wrote about the Altair 8800 recently on the Make blog.
Chris will be at DesignCon next week showing off Parts.io. Stop by to take a picture of Chris looking miserable.