Podcast: Play in new window | Download
Subscribe: Apple Podcasts | RSS
This week focused more on electronics! Think we talk about something too much or too little? Let us know in the comments!
Chris finally got a chair and wowsa does it make a difference!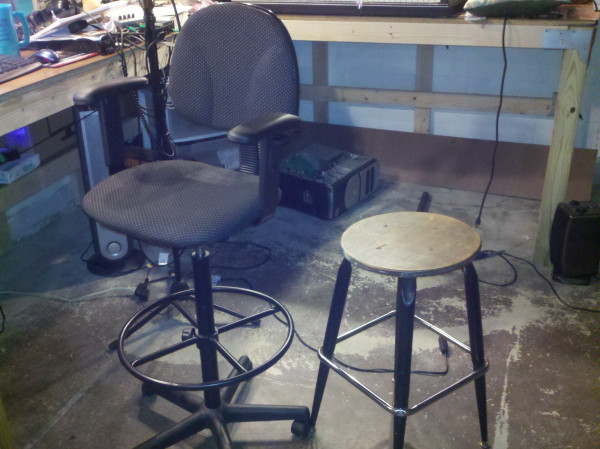 Finding parts online can be tough with distractions, apparently extended internet use can affect the brain. What's a datasheet hunter to do?
If you're still a USENET junkie, Dave is on the sci.electronics.design (accessible through Google Groups).
Shoutout to Junko Yoshida for some of the great articles she writes. Really enjoyed the piece on "The Land of the Rising Silence" when she visited Japan.
Students in the US can get Amazon Prime for a year (Chris got 1-night shipped his chair for $4). Dave dislikes how they won't ship anything but  books to Oz.
Dave has been looking for the lowest power 16+ bit A/D converter he could find. All told he found 2412 from over 24 different companies. Crazy!
COTW: The AD7691 from Analog Devices.  18 bits and only 108uW @ 8kHz. Wowsa!
Speaking of low power, our friends from Touchstone Semi have been getting some press from their initial announcements. They're 2nd sourcing components from Maxim IC…hopefully without any issues.
Design Spark has a new plugin for their free CAD software that allows 3D models (incorporated in version 2) to be exported to Google Sketchup. Cool!
With the CADspan plugin for Google Sketchup and 3D printing, it's conceivably possible to make an entire prototype for <$100.
Dave looking for preferences on CAD packages for future OSHW projects. Your opinion?
Have there been any large-scale open source hardware projects? Chris and Dave can't think of any.
Obama announces robot initiative. Only $70 million but the idea is great. Won't be creating jobs anytime soon though!
This Day in Nerd History:

June 26th (oops!) — Maurice Wilkes was born. Founding father of many microcomputing principles and techniques (in the '40s, no less!)
June 27th — The inaugural run of the first U.S. passenger train to use electric locomotives.
June 28th — Milan, Italy inaugurated the first central European electricity power station.

Lightning Round:
That's all for this week. Be sure to leave us some comments and find us on Twitter or Facebook!