Podcast: Play in new window | Download
Subscribe: Apple Podcasts | RSS
Welcome, Tom LeMense!
Tom is a grad of Michigan State University and has worked throughout the automotive electronics supply chain, including at Ford Electronics, Lear, TRW and a large automotive chip manufacturer.
He recently got the boards he designed back, which were designed using ECL logic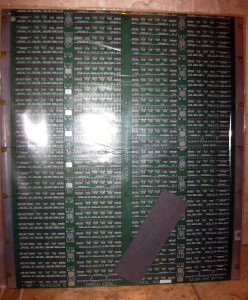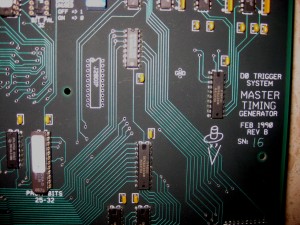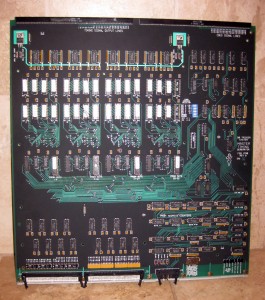 Here's what Tom wrote to us after the show about them:
Attached are some photos of a couple of the "D0" (D-zero) equipment cards that I designed back in the late 1980's for the Fermilab particle accelerator in Neperville, IL.  These were part of the experiment that confirmed the "top quark" and are closing in on the potential of the Higgs boson.  The Fermilab Tevatron and collider was shut down just last September, but there's so much data that the physicists can continue to crunch, that they keep finding stuff.

I should have put a scale in the photos to make clear how large these are.  The floor tiles that they are resting upon are 12×12 inch (30x30cm). If you look at this photo, towards the bottom you can see blue-yellow racks – those house these cards (amongst others):

The "master timing generator" (MTG) was loaded with a whole slew of bipolar PAL's to generate the weird trigger/transfer control signals required in the rest of the system.  6 layers, mixed TTL and ECL.  54 MHz accelerator ring resonance frequency, but skew was super critical so hence the ECL signal path and bipolar pals.

The closeup of the MTG shows the whimsical icon (recognize it if you've ever read Mad magazine's "Spy vs. Spy" cartoon) that I got to stamp on all my creations.  We all had an icon.  There was a surfer guy, a fleur-de-lis, the RCA victor dog, etc.  Gotta love working in a university environment, funded by the US Department of Energy…

The Calorimeter Trigger Backplane was my PCB layout masterpiece – those interconnect signals aren't simply bussed – there's a very complicated interconnect scheme between them to reflect the physical layout of the calorimeter detectors.  PCB is 16 layers, 4 plane layers, the remaining 12 are signal layers with the differential ECL traces between, with all attempts made to control the impedance of the interconnect (ECL likes 100 ohm Z0).  Blind and buried vias were used as well.  I recall the day we sent out the magnetic tape reel (!) with the gerber data to the only company that returned a bid on the job – we commented that we could either order two of these backplanes, or go and buy a new Chevy Corvette – each PCB was about $11K in 1988 dollars, IIRC.

These were designed on an Intergraph CAD workstation, based upon a VAX 11/750 minicomputer, dual 20-something-inch monitors, 2-foot x 4 foot electromagnetic mouse+digitizer, etc.  Pretty heavy duty stuff for a dumbass college student to be using!  I became a complete CAD snob after that experience.
Thanks again to Tom for being a guest on our show. It was great getting his insight into the world of automotive electronics. If you have any questions for him, please leave them in the comments!
Update: Tom has capitulated and joined Twitter since we recorded the show. Hooray! Find him on there as @TomLeMense!