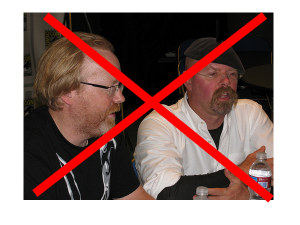 April fool's joke went a little too well. We are not joining Tested.com but we appreciate all the congratulations we received (we'll pretend it was for our superior acting skills…)
There are other (much better) April Fool's Jokes out there, especially from back in the day. Paul Rako goes over a bunch of fun ones from the heyday of National and LT. And Bob Pease's site has the classic fake datasheet from Signetics, the Write-Only-Memory.
Were you fooled by our foolery? Dave also had a separate trick involving laser probes from Extech
[tube]http://www.youtube.com/watch?v=1q2rnKExMiY[/tube]
Not fooling about this one: Photonic Induction is back! Well, at least his videos!
Dave is about to cross his 3-year anniversary of the EEVblog!
Our pal Dino just completed his one year quest at Hackaweek! He finished it out with a great oscilloscope-like laser project.
Did you know: The unit of the reciprocal of inductance is the "yrneh"? That's "henry" spelled backwards.
Wall street isn't just hiring code monkeys. They also build some pretty impressive hardware. Even if you're not a fan of the work the computer will eventually be doing, the architecture is impressive:
[tube]http://www.youtube.com/watch?v=9NqX1ETADn0[/tube]
We finally bring up the Raspberry Pi again on our show. But from the skeptical point of view. Will they be able to push out the boards at the price point they stated? ($35) Olimex on "The Back Shed" forums lays out a good case against it (via reddit).
If you're interested in building your own boards and are looking for an arduino-like project, check out the VinciDuino. It's a way to practice your SMD soldering and wind up with an 8-bit based Arduino (based off the forthcoming "Leonardo" platform).
Are you a fan of OSHW, like we are? If not, you'd likely have stopped listening by now to us 😉 Check out the OSHW community survey over at adafruit.
Great video of Brian Fuller's Drive for Innovation at their stop…where they tore the car apart! Over 100 micros and 288 batteries. Lots and lots of Freescale processors.
Do you primarily use microcontrollers in your projects? Or microprocessors?
In the push to get more consumer-like experiences, Freescale continues to move away from their Coldfire line and towards ARM based products. This new one has a second core dedicated to "iPhone-like" features (which require more memory).
Regulation in the US means you have to PAY to see the standards! Pretty crazy, right? How is that enforceable? Turns out…it isn't!
Giveaway! Sponsored by Freetronics. Win an EtherMega board. Just email us with "contest" in the title to theamphour@gmail.com. Let us know your favorite chip, hopefully one we've never heard of before. Added bonus, we might use it as Chip of the Week in the future! We'll mention you if we do!
Chip of the Week
This Day In Nerd History

The first mobile phone made a call in 1973, by Martin Cooper of Motorola. The phone was 10 inches in height, 3 inches deep and an inch-and-a-half wide and weighed 30-oz. Cooper has said "The battery lifetime was 20 minutes, but that wasn't really a big problem because you couldn't hold that phone up for that long."
That's all for this week. We promise not to pull any more legs until next April 1! Thanks for playing along!
Picture used and modified under CC from the BadAstronomy Flickr page. Thanks Phil!