Podcast: Play in new window | Download
Subscribe: Apple Podcasts | RSS
Welcome to our guest this week, Joe Grand! Hardware hacker, electrical engineer and former TV host! (but not a washout as Joe was saying)
Joe was an early members of The L0pht, a hacking group out of Boston throughout the 90s (Joe's handle was "Kingpin")
Corporate influence and commercializing the company hurt the group later.
We wonder if the recently announced BugLabs collaboration with Ford will have a similar effect on the OSHW nature of their devices.
Joe still stays in touch with some from the group, including Mudge, who is now a program director for DARPA trying to get funding for quick turn solutions from hackerspaces, called Cyber Fast Track.
Aside from hacking days, Joe has debuted and licensed multiple designs to other companies, including:
We also talked to Joe about manufacturing and where he does his, prompted by multiple articles about smaller companies moving manufacturing back to the US. Joe has used:
The Boston Consulting Group has predicted a resurgence in manufacturing in the US in the next 5 years.
Shoutout: MakerBot TV just started, a weekly show about using a MakerBot! Awesome!
This Week In Nerd History: On this day in 1958, Jack Kilby demonstrated his invention of a miniaturized electronic circuit to his boss at TI. This was recognized as the first integrated circuit to be built and operated. This was not the first transistor ever invented (as Chris wrongly stated).
Dave took a picture of his ad-hoc recording studio: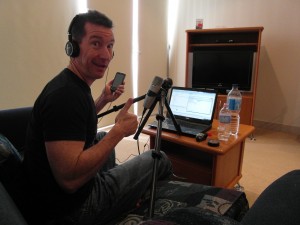 Thanks again to Joe Grand for stopping by the show!