Podcast: Play in new window | Download
Subscribe: Apple Podcasts | RSS
Welcome, Laen of OSHpark.com!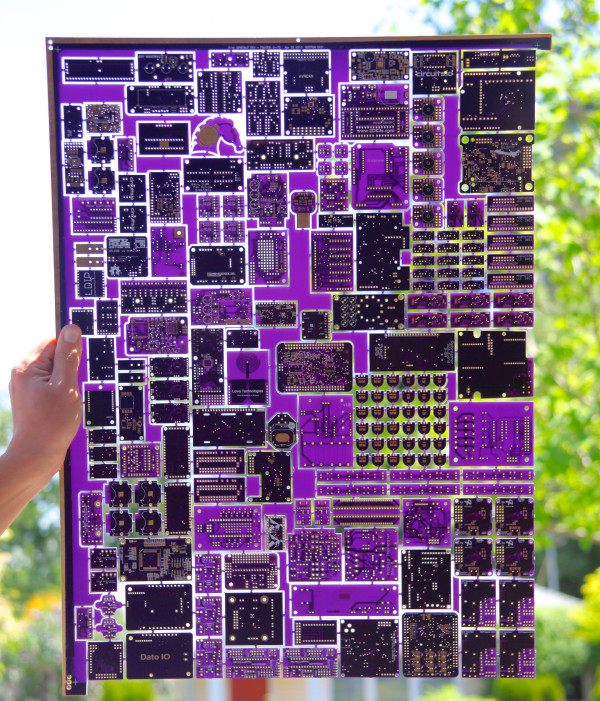 Now that…is artwork!
OSHPark is out of Portland, OR. The original business grew out of DorkbotPDX and started in December of 2009.

The tech scene is still big in "The Silicon Forest", which grew out of Tektronix. Others include Intel, Maxim Integrated, Xerox and more.
The early orders went to Advanced Circuits and was only about 1 panel/month. All orders were packaged by Laen and depaneled after they came back.
Currently, OSHPark has 4 fabs but might expand more in the near future (maybe Europe?).
Even the faster Chinese board houses with a 3 day turn and 2 day shipping matched going domestic. And the quality was generally higher at the US houses.
The purple soldermask is characteristic of OSHpark and Laen needs to order for some of the fabs.
Though it's very expensive, it's possible to do multicolored soldermask. Dave's friend did a 7 color (double sided!) Apple logo.
Laen recently purchased the BatchPCB service from Sparkfun
The OSHpark.com website frontend was designed by James Harton of resistor.io.
Former guest Ian Daniher got his start in electronics from interacting with Laen and the Evil Mad Scientist Laboratories (Windell and Lenore). Being sent the TGIMBOEJ sealed his fate.
The Great Internet Migratory Box Of Electronic Junk (TGIMBOEJ) doesn't seem to be moving anymore. Perhaps we should start seeding next boxes?
Even the IPC is now metric…but not convention! Trace/Width limits for PCBs is still stated in mil/thous.
The OSHpark service/fabs can do 5mil line, 5 mil space, 10 mil drill, 4 mil annual ring on the 4 layer boards (referred to as 5/5). The 2 layer board is 6/6.
The pads are all plated as ENIG.
The math for how these boards are put together is really interesting. Laen created an animated GIF showing how the boards are refactored to optimize placement on a panel.
People use the service for all kinds of projects. Each panel has at least one tube project. Many more are being used for front panels.
The mix of CAD software varies over time, but KiCAD seems to be the top spot, followed closely by EAGLE, Altium and then a wide variety of others.
There are more these days from online tools, including Circuits.io, which is partnered with OSHpark.
A future feature will be OSHW sharing…if you have other boards on the same panel your board is on that are OSHW, you'll be able to see them and maybe even order them.
OSHPark Competition is from:
There is a list comparing many of the different services and how to optimize for cost/size. Quality is top priority at OSHpark though.
A standard PCB panel is 18″ x 24″.
Dave has done videos before about piecing together panels and getting them fabbed:


[tube]http://www.youtube.com/watch?v=VXE_dh38HjU[/tube]
OSHPark is hiring! Send Laen an email at Laen@oshpark.com if you're interested in helping.
Thanks to Laen for being on the show and providing all the awesome info and images! We highly recommend people go check out the service and upload a board today!
If you're interested in the "sponsor" this week, check out ContextualElectronics.com