Podcast: Play in new window | Download
Subscribe: Apple Podcasts | RSS
Welcome, Larry Sears!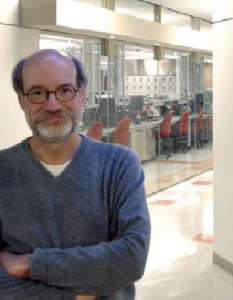 Our first in-studio guest ever!
Larry is currently an adjunct lecturer at Case Western Reserve University in Cleveland (Chris' alma mater)
After school, he was a teaching assistant and soon after started a design and build company called Hexagram.

One of the earlier products was working on the MeisterMatic600, a computerized embroidery machine

Since he wanted to develop a turnkey, proprietary product for someone, he chose gas meter reading.
Initially, the wired device required a person to walk up to a wall and take a reading

Later, they "bet the farm" on the STAR system, which worked with cellphones and low frequency RF

Shortly thereafter, Larry set up an endowment to ensure students would have a place to tinker.

Larry is working on a new project at Case, think[box] (previously mentioned in episode 53 of The Amp Hour)
This will be a makerspace/incubator/classroom housed in a 50K+ sq ft building.
Many thanks to Larry for making the trip to Chris's house for the interview! You can reach him at Sears@case.edu
Thanks to Larry and Case.edu for the images.