Podcast: Play in new window | Download
Subscribe: Apple Podcasts | RSS
Welcome, Philip Freidin of Fliptronics!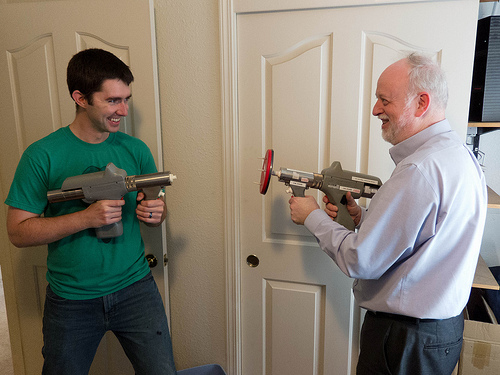 (Philip and Chris face off with ESD guns before Maker Faire)
Back in Australia, Philip was an FAE for Intersil and AMD, among others.
At AMD, he became an architect on the AM29000, one of the first commercial RISC processors.
The other two were in the ACORN (by ARM) and the Fairchild Clipper.
No crazy instructions at ARM, but there is an EIEIO instruction in the wild. They also outlawed images in silicon after a guy's face messed up a mask set!
The precurser to the 29000 was the 2900, which was based on the Fairchild 74181 bit slice concept.
The 2900 was in machines such as the PDP11 and the VAX.
Philip joined Xilinx right when they were starting work on the XC4000 series.
He also helped architect the Virtex series parts and the early Spartan parts.
Any patent with Ross Freeman on it is brilliant, according to Philip.
Philip has a couple patents of his own, including the one for Dual Port RAM in an FPGA!
Dave was wondering if patents expiring in the FPGA industry will encourage other manufacturers to jump in. Philip says only if they have a laser focus.
Every FPGA manufacturer is fabless, so how do you get a process edge?
If you're interested in getting started, look up a tutorial on VHDL or Verilog, get your self a dev board (like the Papillo or similar) and download the tools from one of the big vendors. Then start using your imagination!
Any other questions not answered directly on the show (especially those asked on the Discuss Server) will be answered if they get 10 or more upvotes.
Update: Philip has posted an album of chips and has posted short blurbs about them.
Thanks to Philip for taking the time to share about his experiences! We hope to have him back on in the future to talk more about what he's been doing since his time at Xilinx.
Thanks to MightyOhm for the picture of Philip and Chris.