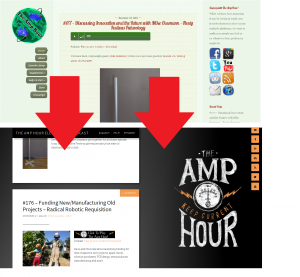 One thing we've always known is that our site hasn't looked particularly good. You may recall the old days of what looked like a desk with tools scattered about. And then the most recent green monster, with our old globe logo.
One of the great things about having support from you–our listener–and occasionally a sponsor here and there has been the monetary benefits that come with it…namely being able to hire people who know what they're doing. Rachel Rivera from RadCastle did our awesome logo (now available for purchase in 4 different colors at The Amp Hour Printfection Store). The folks over at reddit host our makeshift forum/link gathering (after a couple disastrous tries otherwise). Dave and his penguin geeksquad also host The Amp Hour section on the EEVblog forum. And now some WordPress person has designed this theme that will make it look like we know what we're doing with websites (we really really don't).
The benefits here are that the navigation should be cleaner for you, across all types of viewing devices. The site is "responsive", meaning it should look relatively the same regardless of the type of device you're viewing it on; it will refactor to fit a computer, a tablet or a phone in some semblance of order. There are now ways to see if there are any comments on a post from the front page, hopefully encouraging people to participate in the conversation. And if you don't care about any of that stuff? You can scroll to the show you want to listen to and play it right from the front page. Oh, and hopefully the page loads a little zippier than in the past as well.
We hope you like the new look and feel. If not, you can always revert to listening via iTunes, other types of podcatching apps, or you can just catch our RSS feed. We look forward to a bunch of great new guests in 2014 and hope you continue to listen to the show!