Podcast: Play in new window | Download
Subscribe: Apple Podcasts | RSS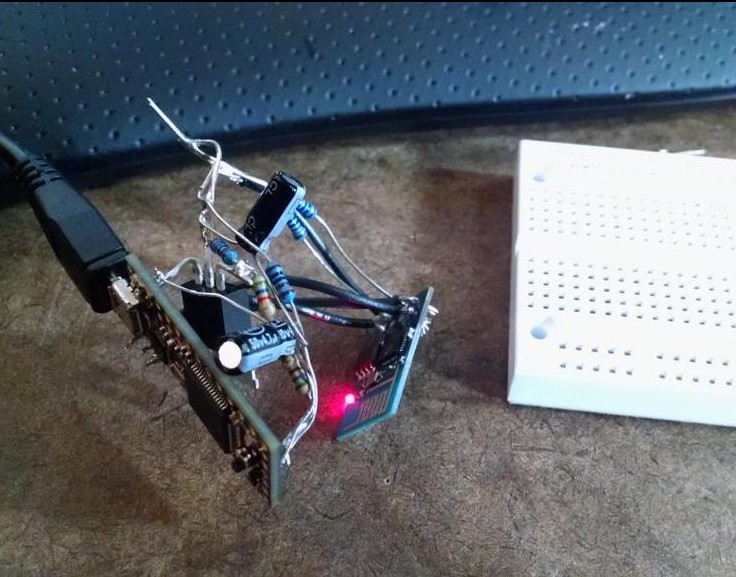 Dave wants The Amp Hour to have a Loony Toons intro. Old Bugs Bunny cartoons used to have an entire orchestra.
YouTube is giving $100K to develop a new series. Dave wants feedback on what he should develop. Chris suggested "dancing" + "soldering" and calling it "

dancing with the scars".

Chris has a new t-shirt design that represents a "solder jockey". You can get one on Teespring.

Chris has ben trying out the ESP8266 with a Teensy 3.1.
At Maker Faire there were a wide range of tools that were interesting:
Chris also saw a TM-245 at a Seeed Studio event (they just opened an office in the bay area).
Dave is getting an Inventibles X-carve (the smaller one).
Radio Shack was noticeably absent from Maker Faire, and from paying back their small suppliers. This year at Maker Faire, Google took over the "Learn to Solder" tent.
Chris Anderson gave a great talk about the Next Maker Movement (now at 2.0):
[tube]https://www.youtube.com/watch?v=TKDv37fHZu0[/tube]
As Chris mentioned, computing is basically free. New platforms like the CHiP and the Onion Omega make super powerful hardware ubiquitous. 
Chris thinks there should be silly connected stuff everywhere. The Internet of ________

Hammers
Toilet paper
Whatever

Dave backed the Lily quadcopter, recently announced.
Vicash asked on our subreddit about the point of learning basic electronics. There are some great discussions on that thread. Chris stressed top down learning.
After recording, Dave did and extended blab also about this topic.
Chris got to go on a tour of the Tesla factory (under NDA, no pictures). The robots were amazing. You can see some of them featured here:
[tube]https://www.youtube.com/watch?v=8_lfxPI5ObM[/tube]
Dave has been trying out the Beta version of CircuitMaker, now mostly available to people. Dave also found that not committing projects allows them to stay "private". 
Chris saw a talk by Adam and Matthew of Wayne and Layne about the future of KiCad at Maker Faire.
Chris is looking for an embedded engineer to help out with Contextual Electronics (pay will be revenue sharing from member fees). Email chris at theamphour.com with the title "Contextual Electronics Embedded" if interested.
This week turned out to be a jam packed episode! Please let us know what you thought in the comments!