Podcast: Play in new window | Download
Subscribe: Apple Podcasts | RSS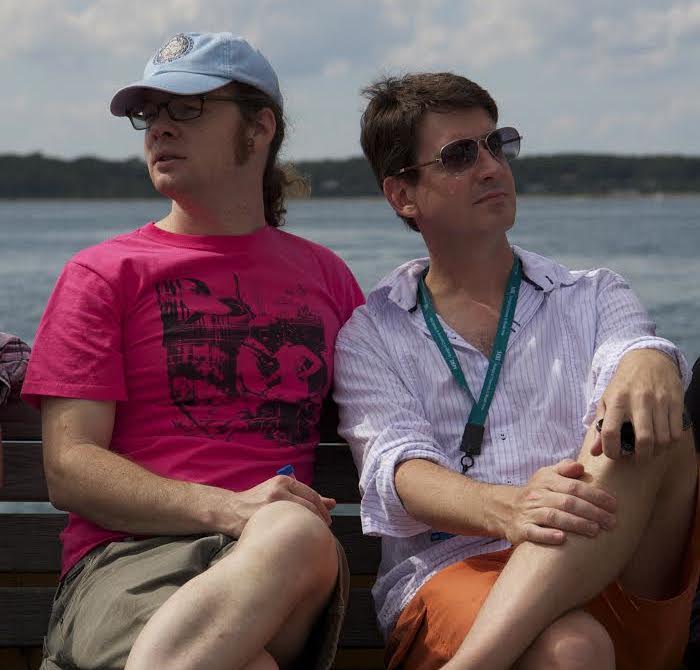 Welcome Greg Gage and Tim Marzullo of Backyard Brains! (hereafter annotated as "BB")
The focus of BB is to make simple to use electronics so that neuroscience is taught sooner in students' lives.
The Spiker box is a signal chain with bio instrumentation amp, then bandpass filtering, then an amplifier to output through a speaker
It turns out that plants also have electrophysiology (action potential firing). Especially
The cortex is done in layers, so the polarity lines up and the signals are detectible
The human brain initiative is part of a push from the Obama administration. It's meant to increase the understanding of the brain.
Tim did some predication of the future:

2035 neuromotes, silicon wrapped in biocompatible material.

2165 is the completely controllable to the single neuron layer.

There is a bluetooth kit to control bugs by manipulating their antennae. It's called

The Roboroach; it uses similar science as to the experiments by Luigi Galvani on frog legs.
Greg gave a TED talk about the human to human interface

Chris knew what the Myelin sheath is; a coating over neurons that allows signals to travel faster.
Squid giant axon and the entire equation is governed by the telegraphers equation. 

Communication between axon of one neuron and the 

dendrite of the next is done via neurotransmitters. Check out the diagram of a neuron on wiki.
The Spiker box can also act on the output of electromyograms.
Chris had a chance to meet Greg and see some of the electronics in action (with bugs) with Hackaday in Ann Arbor, MI.
On the educational front, BB's g

oal is to make more experts via their tutorials and kits.

For neurological disorders, doctors are starting to look at using electroceuticals instead of pharmaceuticals.
Ben Krasnow did a video about creating his own TMS.
[tube]https://www.youtube.com/watch?v=HUW7dQ92yDU[/tube]
Chris confused DBS (where they install an electrode) vs TMS (where there is an external magnetic field).
BB has done some educational based research papers.

They have been working with marine biology in Woods Hole. Aneonomes and jellyfish have loose neural nets and there is very little understood about them.