Podcast: Play in new window | Download
Subscribe: Apple Podcasts | RSS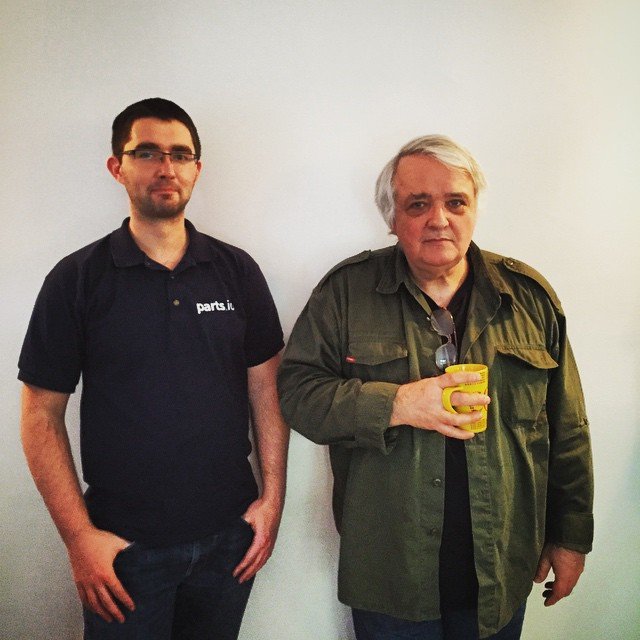 Welcome, Voja Antonic!
Chris had the opportunity to interview Voja while in Belgrade for work.
Voja is the inventor of the Galaksija computer, which was the first (legally available) computer in Yugoslavia in 1984. It was based on the Z80 processor.
There is also a more in depth discussion of the Galaksija in Serbian that can be translated with Google Translate.
It was illegal to import other computers that were available at the time because of the cost of the finished goods.
Over 8,000 DIY builders wrote in to the magazine published by Dejan Ristanovic (computers in your home) to mention the article inspired them.
The cost of components was 230 Deutschmarks, which this site coverts at 2.871 / 1$. That means it cost roughly $80 in 1984 which would cost roughly $185 in today's dollars (if this is wrong, please correct in the comments)
They used to broadcast games over the radio station, which people could record onto tapes and then play on their computers.
Voja will be demoing and running a workshop based around his DIY Single-chip 2D Retro Game Console at Choas Communication Congress (CCC) this year. Be sure to download and check out the (assembler) source code!
[tube]https://www.youtube.com/watch?v=VbTwWFwbsE4[/tube]
In the late 90s, Voja wrote in about the Engineer's Assistant, a multitool that could do logic and protocol analysis. This became Microchip's AN689 but was later pulled because of sanctions against Yugoslavia at the time.
Voja also wrote books such as The Guide To Critical Thinking and Patents That Won't Change The World (Wayback Machine version).
He also talked about the Vampire Detector (also only available on the Wayback Machine), a machine with switched mirrors that allowed you to see if someone in a crowd is a vampire. This was a send up of the patent system.
Chris didn't know about Voja's site until after the interview, unfortunately. Check out this other awesome project with an OCR system for Bingo Balls.
Voja was a wonderful guest and I'm so glad we got to meet in person! Many thanks to my co-workers at Supplyframe for introducing me while I was in Belgrade.