Podcast: Play in new window | Download
Subscribe: Apple Podcasts | RSS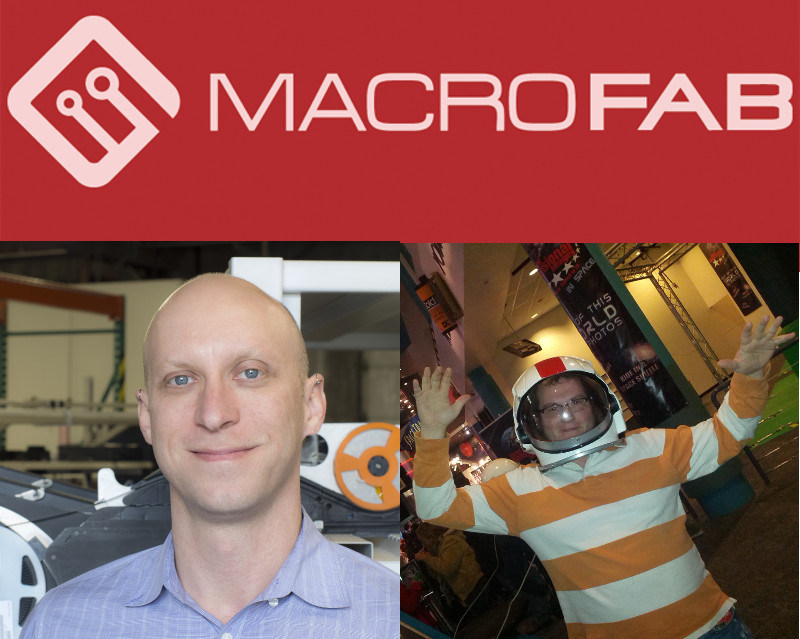 Welcome Chris Church and Parker Dillmann of Macrofab!
Macrofab is a new contract manufacturing service to allow for low cost single or multi board runs using a very friendly UI interface.
The facility is in downtown Houston. There is a brewery next door and the Houston MLS team plays down the street.
Someday they would like to bring PCB manufacturing in house so that they can get a 24hr turn on assembled boards. They recently announced that a 5 day turn is available.
Macrofab has raised 

2 angel rounds, one in fall of 2013 and one in mid 2014.

Listeners should try out the service using the demo link that shows the price of a propeller dev stick board.
A big way of lowering costs is having users verify rotation and alignment of the parts from the placement files (derived from the uploaded EAGLE, KiCad or DIPtrace files.
Another way of keeping costs down is using the h

ouse parts. The labor is free on all of those parts. There is currently only a part l

ibrary for EAGLE, others coming later.

Macrofab has a Universal GSM2 pick and place, built in the mid 2000s. It c

an do 0402 parts, up to 

6000 parts per hour. There are 32 feeders per side plus platform tray of 28.

Reflow is the long time sink for a lot of boards. They can also do s

elective solder for through hole parts.

There are 4 full time employees at Macrofab plus a range of part time line workers.
For the low quantity boards, a lot is placed by hand. Each part received after being bought is also recorded for 

lot control.

Programming firmware is done in house, but is 

disabled even though it's shown in the UI.
Currently the UI can do 2 layer but 4 layer is coming soon.

The low quantity boards are done by OSHpark and bundled or higher quantity boards are ordered as p

anels from Korea.
Solderpaste is done with 

kapton (for low quantity) and stainless stencils (for higher quantity). Parker wants

 to get a solderpaste printer. 

They want to solve the problem of providing enclosures by the end of this year.
Chris and Chris are both fans of the schematic as a control document. This requires revision control and only making changes in the schematic (the "c

anonical representation").

The Macrofab group focuses on API "microservices" and a strong UI with a lot of tool tips (mouseovers) to help explain the different features.

Interested in working at Macrofab? Send an email with a resume/portforlio to jobs [at] macrofab.net
It was great hearing about the future of getting boards made from the Macrofab guys! We hope to talk to them as they keep expanding!