Podcast: Play in new window | Download
Subscribe: Apple Podcasts | RSS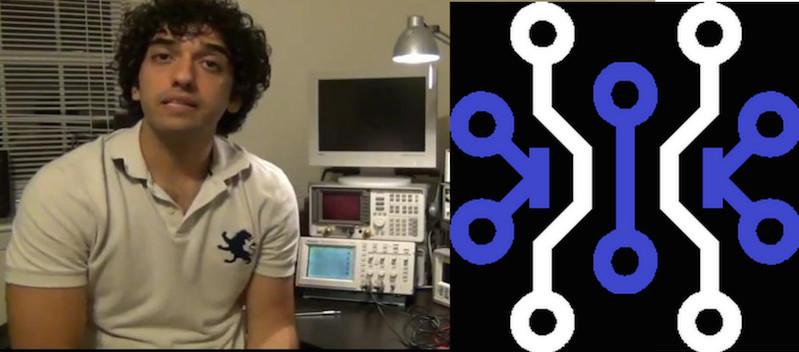 Welcome Shahriar from The Signal Path! If you're not already, you should definitely be subscribed to the YouTube channel.
Shahriar currently works in the ASIC design lab that is part of the Murray Hill building at Bell Labs.
The millimeter wave researchers often say "GHz is basically DC"
Making higher speed complex devices can be difficult but there was a 2006 paper that had a 81Gb/s timer.
ST Micro has one of the leading SiGe BiCMOS high speed.
The ASIC group has some of their research work fabricated at TowerJazz because it is approved by the government.
The government has been focused on III/V semiconductor technology – InP and GaAs, GaN
The PA/front end of cellphones/wifi uses GaAs (instead of Si) because of breakdowns of submicron processes.
Chip designers get design kit from the fab and these are used in simulations. Here is an example of one from TSMC, provided by MOSIS (discussed previously on the show)
Shahriar usually tests new design kits with a LNA/PA.  He also designed a 160 GHZ PLL as a student.
3 um x 3 um capacitor is 12 fF.
The ASIC designers use 3D EM simulation from Cadence.
Design kits will have variations: DC characteristics like transconductance (gm) might be ok but the designers know the capacitance will have uncertainty as they characterize the design kit more.
Dave recently did an EEVblab about what a hobbyist should know. Shahriar agrees and things knowing to test is very important.
[tube]https://www.youtube.com/watch?v=9iXFhKUa1BU[/tube]
Chris loved Shahriar's cryo experiments because they really showed the (extreme) effect of temperature on components.
[tube]https://www.youtube.com/watch?v=MpCQsB1VK24[/tube]
Testings for THz can require complex/custom test gear. Often it is a network analyzer with a front end. OML, VDI make extenders for Anritsu, Keysight.
One Signal Path episode used a Keysight/Agilent 62GHz oscilloscope, it was on loan from the dealer.
[tube]https://www.youtube.com/watch?v=dx596o8t_TY[/tube]
On scopes you start to run into the noise floor of the ADC (b/c jitter). This limits around 100 GHz. At 110GHZ the connectors become limiting (1 mm). If the connectors go to .8 mm, it could go up to 160 GHz.
Shahriar has a range of research papers: http://scholar.google.com/citations?view_op=new_group&hl=en&nun=Shahramian&imq=author:%22Shahramian%22&authorid=2011075341937338871
Peer review is critical for journals. Bell Labs splits research between keeping it private and publishing it.
There are a range of technical conferences for millimeter wave research: ISCCC, SiRF, SSYCs, IMS conference
A phased array is a grid of antennas. It allows steering the signals towards the source/receiver.
Different high GHz bands are great because of the open bandwidth.