Podcast: Play in new window | Download
Subscribe: Apple Podcasts | RSS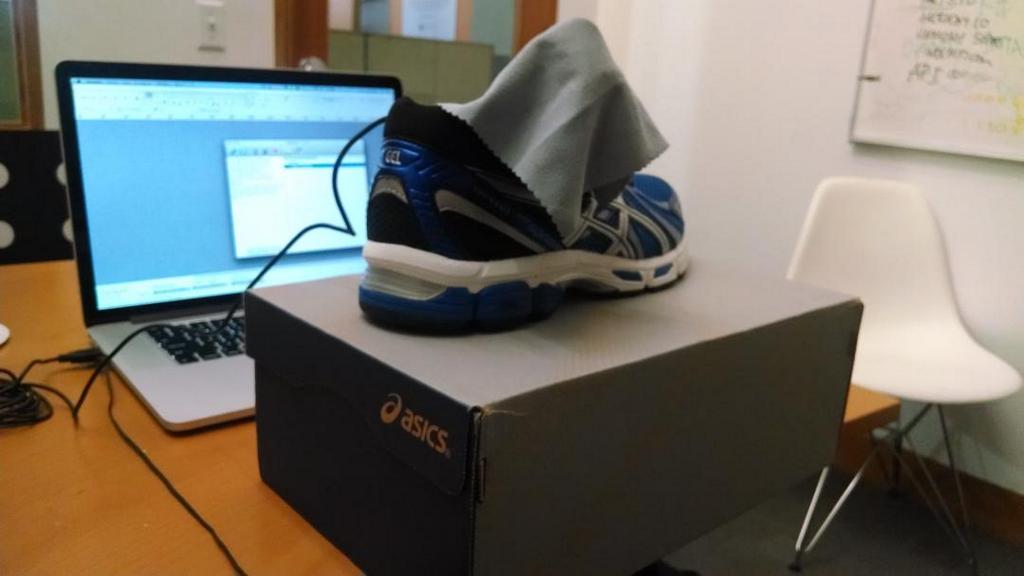 Chris used a (new) shoe as a mic stand this week. EMSL asked on Twitter if Chris was making his own ASICs now.
Dave's lab internet has been out for 3 days now due to broken fiber.
Do you develop or use a tablet for your electronics?
Chris wrote about an experiment of trying to do layout while on a plane. Conclusion: Unless you prep properly, the airplane test might not be a good measure of whether online CAD tools are a good fit.
Do you download datasheets? Or do you use Google as a repository?
In Dave's latest video, he talked about white van speaker scam after finding speakers in the junk room.
[tube]https://www.youtube.com/watch?v=i3B_KKyntQE[/tube]
Even though there may be slightly fewer white van scams, crowdfunding sites continue to pump them out, the latest (gag?) being a Perpetual Magnetic USB Charger.
Slightly better–though still disappointing–the Printeer recently threw in the towel after realizing they couldn't deliver $500 3D printers from their garage alone. When they talked to Dragon Innovation, they said the company would need $1M+ to make the manufacturing run make sense.
That doesn't seem like much money when compared against the amount that Samsung is spending on their new chip fab: $15B!!! Must be for all the automation and robots.
Speaking of robots, "Humans Need Not Apply" is an interesting look at the upcoming threat to human labor as more and more jobs are consumed by automation and robotics.
[tube]https://www.youtube.com/watch?v=7Pq-S557XQU[/tube]
Chris has read about this before in "The Second Machine Age".  The authors have also been on the Innovation Hub podcast in the past talking about this book.
In the Kasparov vs Deep Blue match, Kasparov ended up throwing in the towel after being shocked by a non-standard moe.
Chris just launched another Teespring campaign for a new design. Get your "I have the power" teeshirt now.

Octopart and a coalition of manufacturers have started collaborating on the Common Parts Library. We talked about this 2 weeks ago, when we found out Seeed Studio is doing the "Open Parts Library". Seeed is part of the coalition.
This week Chris will be at a meetup in San Francisco where former guest of the show and Electric Imp engineer Brandon Harris will talk about subGHz RF.
Chip of the week: The Altera MAX10. They also recently published a useful eBook called FPGAs for dummies.
Chris got to see 1o57, creator of the past few DEFCON badges, speak at the Hackaday 10th Anniversary party (great talk, definitely worth watching)
[tube]https://www.youtube.com/watch?v=-hCL7dE-nqg[/tube]
JohnnyMac (also a collaborator on the badge) talked about the Parallax Propeller. This design for the Propeller was recently released to the open source community. They are also hard at work on the new Propeller 2. 
Chris was asking Dave about PIC vs AVR, having only used the latter.
Much like the browser based CAD tools, we have derided the browser based IDE in the past. The mbed platform/stack looks interesting though and if it "just works", we're willing to give it a try. 
Bolt wrote a great piece of reality check for people, "No, you can't manufacture like Apple does".