Podcast: Play in new window | Download
Subscribe: Apple Podcasts | RSS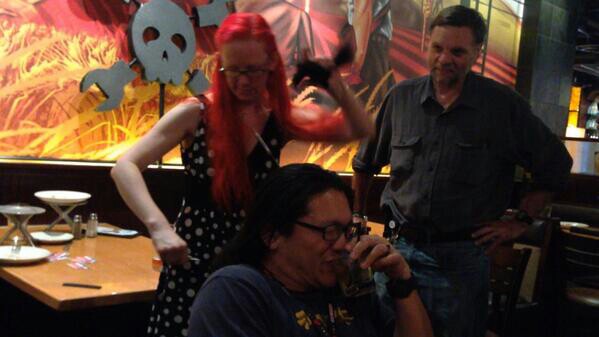 Laen set up the BringAHack dinner, it was about 120 people! Really well set up.
The Novena funded and as a result, Bunnie cut his hair off!
Jeri gave an update on the CastAR, the molds are just about ready for first shot.
Chris was given an MDO3000 to try out.
Voltset was a company at Maker Faire with a phone/tablet based DMM (the 3rd we've heard of)
Velleman is also coming out with a phone/tablet dual channel scope (with 10 MHz bw)
Chris loved the robotic front loader
[tube]https://www.youtube.com/watch?v=XjHJ71SVop4[/tube]
The portalab is out on the road with Chris. It is all low-cost tools
Chris finally saw the Othermill in person. It can do 5×5 PCBs from Gerbers or EAGLE files.
More of a machining tool, the Carbide3D Nomad was there as well. It was developed by two hardware folks and the author of the software MeshCAM.
Dave has been working a live stream setup where he can send the HDMI that is captured from his various cameras and microscope.
Ben Heck did a new project that included Dave voice clips. Chris saw it in person.
[tube]https://www.youtube.com/watch?v=wYo4lOuD_-Y[/tube]
Chris's "NEVER trust the autorouter" T-shirt was popular but was given away. There will be a teespring campaign for everyone to get one.
Dave had never heard of Uber before, but will try it the next time he travels.
Thanks to @Noazark for the picture of Bunnie's haircut