Podcast: Play in new window | Download
Subscribe: Apple Podcasts | RSS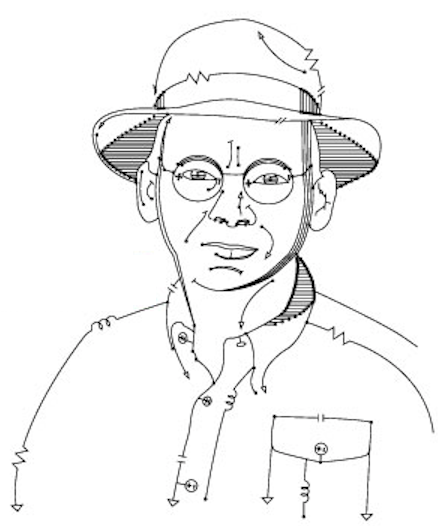 Welcome, LTspice guru, Mike Engelhardt of Linear Technology!
Mike has been writing simulators since 1975! LTspice was his 3rd simulator, it is currently on version 4 and has been in the market for 14 years. You can download it for free here!
Simulators are based upon numerical methods and approximating non-linearities. Mike defines SPICE as having common Jacobian (part of the solving matrix)
The best simulators are not from software companies, they're from the equipment manufacturers. The best measure of radar return from a war plane was from the plane manufacturer.
Mike has optimized LTspice to run fast. This means it uses self authoring code, runs pipeline hot, compiles during the simulation and lots of other stuff Chris didn't understand. This was all in order to remove processing overhead. It also means it's energy efficient!
Berkeley SPICE (the original) had lots of problems and discontinuities for the models contained within. It also was 200000 lines of code, but only 85000 lines of code were actually used. LTspice has closer to 500,000 lines of code.
Intel CPUs are surprising, especially when running multithreaded. Mike recommends benchmarking all systems because of unknown possible behavior.
Making transistor models is a difficult task and not advised for the layman. Either try to talk to the vendor to get one or approximate with a built in model.
THE book on this topic is Semiconductor Device Modeling With Spice, 2nd edition.
Some of the curve parameters are human readable (gate capacitance, beta, etc), others are not.
Power transistor manufacturers do not normally provide models because the work of creating a good power transistor is different than a normal chip designer. To help switcher designs, LT made their own power transistor.
Many of the switchers in LTspice are shown as Macromodel. These are encrypted versions of spice components that are written in a hardware description language.
The LT3780 (which controls 4 switches and can do all types of switching regulation) has a digital engine in SPICE to replicate the state machine on board the chip.
Though Berkeley SPICE is open source, LTspice is not. Mike did not think it was worth losing the competitive advantage.
The control panel in LTspice has lots of knobs you can turn which will mess up your simulation. Some are worth it though:

Solver: normal or alternate
TRTOL: Default is 1 (Windows) or 2 (Mac), but the pros put it on 7 because they can handle possible glitches.

Chris has played with the Gmin characteristic when working on sensitive designs.
The hacks page allows you to turn on or off many of the corner cases that have been designed in over the years.
Mike is currently on a 60 city Arrow seminar tour, on 6 continents! In the past Nu Horizons ran this tour (and Arrow bought them). You can see if Mike is coming to your city and sign up to attend!
Many thanks to Mike for visiting the show! More importantly thanks to him and his team for all the hard work on a tool that many of us use regularly and without hassle or payment! You can reach Mike directly at ltspice@linear.com (as always, please be respectful of our guests' time)