Podcast: Play in new window | Download
Subscribe: Apple Podcasts | RSS
Welcome, Dave Taylor! He was the designer of the Fluke 8060 and currently works as the Director of Engineering at Rice Lake Weighing Systems!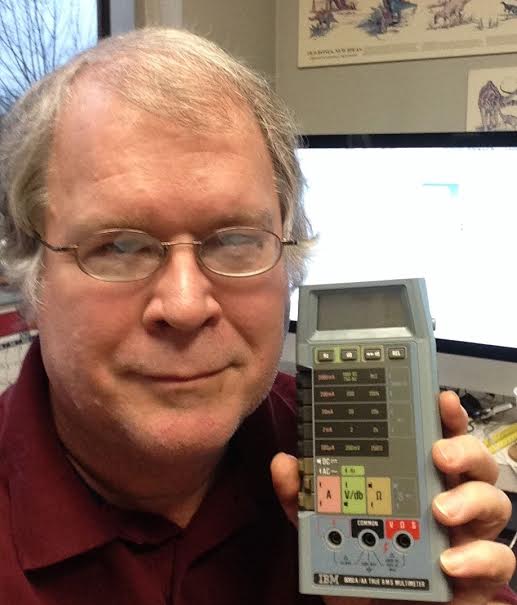 Dave's first foray into electronics was building audio gear: Fuzz boxes, TA17s, Class D amps using 555 timers, soundboards/mixers.
He was hired by Fluke after a short stint at a job after going to the University of Colorado at Boulder (the Buffalos!)
He assisted on the design of the 8020 and the 8920, but was also sent to work on the production line.
Do young engineers get experience these days when production is elsewhere?
The Fluke handhelds used (and developed) the 429100, an all-in-one measurement chip for all its handheld 3.5 digit devices. It outputs readings directly to an LCD. Intersil then did minor modifications to the design and released it as the Intersil ICL7106.
There was a lawsuit after they decapped an ICL7106 chip and found the silicon said Fluke! It was functionally equivalent to the 429100, except for the range changing (which was patented).
After the experience with Intersil, John Fluke Sr decided to bring sensitive designs in-house and built a 5 micron fab.
Dave worked closely with Caddock Networks and learned a lot about resistors and how they're manufactured/sorted to be precise.
Once the project was over and there were unused 8060s, one was gifted to Jim Williams, who Dave knew.
The 70 series went to a rotary switch which still persists today.
These were a response to competition with Beckman. That company was later purchased by Fluke.
Fluke also bought Datron, a company Dave almost went to work for.
After Fluke, Dave went to WaveTek and designed the Model 52 datalogger. See one in action:
[tube]http://www.youtube.com/watch?v=caQmiw2170A[/tube]
Once that company folded, Dave went to go work for MSI, which was then bought by Rice Lake Weighing Systems. They make industrial scales and weighing equipment. Dave still works there as the director of engineering.
Thanks again to Dave for putting up with our delays and our usual annoyingness! Find him as drtaylor on the EEVblog Forum. (must be logged in)