Podcast: Play in new window | Download
Subscribe: Apple Podcasts | RSS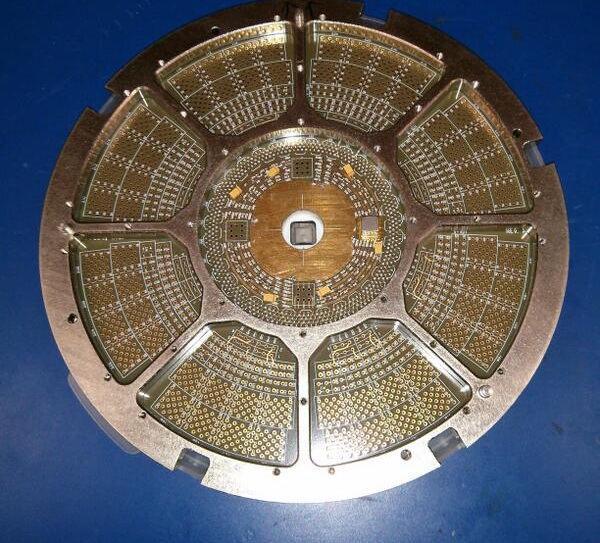 Dave is amused that the Dayton Hamvention mentions that guns aren't allowed
We have a new t-shirt crowdfunding campaign! Get yours today!
Dave got a great gift from Vincent Himpe (future guest of The Amp Hour!), including a bunny suit and a ton of fab equipment and wafers.
[tube]http://www.youtube.com/watch?v=y0WEx0Gwk1E[/tube]
Chris used to work with that kind of stuff at a previous job, though he made memory stuff, not logic.
The fab equipment world is getting a little smaller/less diverse now that Tokyo Electron and Applied Materials are merging.
Are there many young hardware teams out there? Especially for large projects like new chip companies?
Once example Chris thought of is the Tessel team, who were recently funded using the new Dragon Innovation crowdfunding program.

Crowdfunding has another member in the "bamboozle" category, the Ice ID. Why do people think that their business needs will be funded by people?
There is an awesome program at the Seattle area hackerspace (Metrixcreate) called Circuit Church. It's on a Sunday evening for $30 and you make a circuit board by the end using a LPKF rapid prototyping machine.

Designs need a benevolent overlord (or as Dave says, a dictator). Toyota had a chief engineer, who makes all the final decisions on a particular model.

What are the ethics of meeting with vendors and sharing your ideas? Are you bound to only tell those ideas to one vendor?

Do podcasts count as 

prior art, to be used in patent cases?

Chris enjoys watching solder melt under high magnification. Dave informed him this is called the 

plastic region.

The Arduino family and community just got a little bigger with Intel and TI now having co-developed boards. Would you pay an extra $30 for an Intel chip on board?
Dave asks about the US shutdown. It does indeed affect science and technology companies. Closer to home, it affects getting your products approved for FCC testing.
Chip of the Week: The LT2338-18 is an 18 bit, 1 MSPS, +/- 12.5V part needing only a 5V rail. At a bargain price of $30…
Chris also likes the Maxim Beyond-the-rails™ parts because of the charge pump inside, even if their trademark is dumb. Well, most of them are.
Popular Science is turning off their comment section. While their explanation of saying comments influence opinions was a bit brash, Chris enjoyed this piece linked to him by Steve Hoefer (@Grathio) about why another web denizen (@scalzi) turned off the comment section.
There is a new Internet of Things podcast from GigaOm. The IoT field is starting to exit the realm of tinkerer and into the realm of gadgeteer. 
The FAA now allows electronics below 10,000 ft. It only took 25 years or so to get that one sorted out! 
Sparkfun recenly put all their OSHW designs onto Upverter. This is great to quickly be able to browse and clone their work for your own projects.
Intel isn't just creating open source projects these days, they're also throwing their money around…to the tune of 50K boards for their new Intel Galileo
Next week on the show, Dave will be gone but Chris will be talking to Adam and Matthew of Wayne and Layne! Get your questions in for them over on the subreddit!